Every year, hunters are looking for every advantage to have a successful hunting season.  In this article, we outline the best deer attractants for the 2023-2024 hunting season. The goal? Land the buck of a lifetime.
Seasoned hunters and novices alike scour online reviews, talk to friends, and compare results of popular products as they prepare for hunting season. It's not just finding a good product, but the best deer attractant that will make your season a great one. So how do you know which deer attractants are worth the money?
Whether you're an experienced pro or just starting out, it's never a bad idea to try the latest products that have all the other hunters raving, especially when it comes to deer attractants.
Best Deer Attractants For 2023-2024
We've compared some of the fan favorites and collected reviews to showcase the best deer attractants that should be on your must-buy list in 2023-2024. These vary from the traveling hunter to ones who prefer a treestand, so however and wherever you hunt, you will find a match.
Let us know in the  comments which one you think is the best deer attractant for you in 2023-2024 and if we missed an attractant you HAVE to have!
Recommended Deer Attractants
Mineral and Nutrient Based Attractants
Acorn Deer Attractant - 2023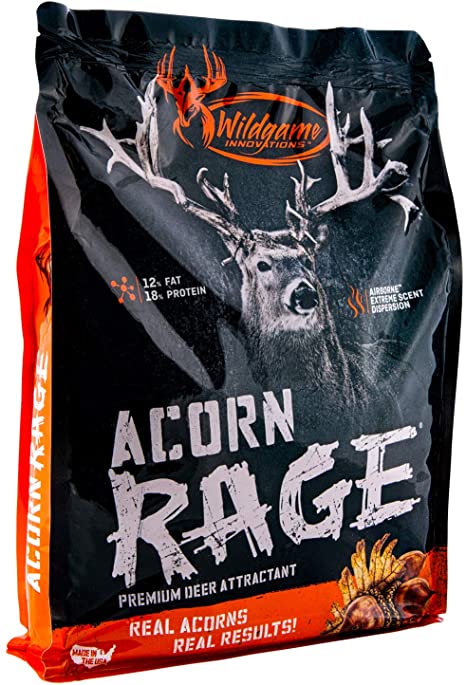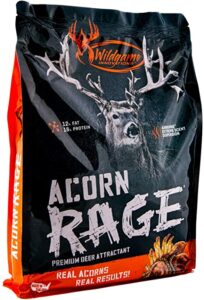 Acorn Rage from Wildgame Innovations is a tried-and-trusted deer attractant by almost every whitetail deer hunter. This deer attractant boasts acorn scents and tastes mixed with other minerals that drive deer into a feeding frenzy.
Acorn Rage can be placed on the ground, in a trough, or in gravity feeders. It has added nutrients that contribute to antler growth and overall deer health, making it beneficial for the deer in your area overall.
Acorn Rage is low maintenance, can be set out in a variety of settings, and produces quality results. We like it because you can add it to a trough, the ground, or mix it with other attractants for enhanced results. It doesn't have a lot of limitations and requires little to no effort once put out. 
Always check your local hunting laws, as some states would classify this as baiting, so always see where this attractant falls before use.
Hunters love this product because it goes fast — deer are almost instantly drawn to Acorn Rage and often many at one time. It's best used in the winter or in Dec./Jan. when food is more scarce. 
It can be considered baiting, so always check your local laws before use. When placed in a good area and used frequently, it definitely creates a feeding frenzy! If your area is cleared for use, this is the one to buy without any hesitation. 
Mineral Mix 30-06 Deer Attractant - 2023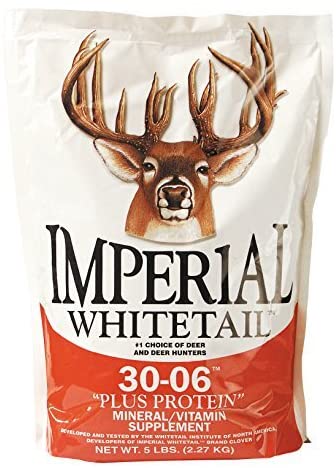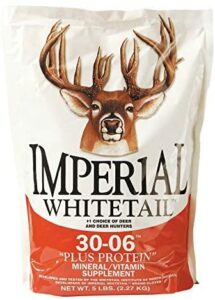 Many of the best deer attractants are mineral-based, as they provide the best results, so it makes sense to start off our suggestions with a straight mineral supplement. 
Whitetail Institute produces a widely popular protein mineral mix, 30-06, which aids in antler growth and growing the local deer population overall.
Used directly on the ground and raked into the soil, it draws many deer in for the nutrients and flavor. It's wildly popular due to its protein levels and is a perfect vitamin supplement that deer naturally crave.
The 30-06 mineral supplements are designed with deer in mind. Similar mineral products are often designed for general cattle or wildlife. The drawback of those mineral products is that they don't provide deer the right nutrients, which is bad for hunting and bad for the deer overall.  
Whitetail Institute has made sure their deer mineral supplement is both an effective attractant and good for the deer. This deer attractant aids a doe's lactation and pregnancy nutrients, and help grow the antlers in bucks. This means healthier deer, larger bucks, and a strong attractant deer can't resistant. 
Compared to other mineral blocks that hunters use, this mineral attractant is not destroyed or melted by the rain; long lasting = better results. Deer will continuously visit the site of the 30-06, digging holes to get any and all minerals that are absorbed into the ground. This is perfect for those who are patient and want the extra time to get their aim just right.
Hunters that have invested in other deer attractants see the most success with this purchase, which is why it makes the top spot on our list. When in doubt, always go with the mineral supplement series from Whitetail Institute, you won't be sorry that you did. They make their deer attractants specifically for wild deer and the results show it. 
Antler Power Deer Attractant - 2023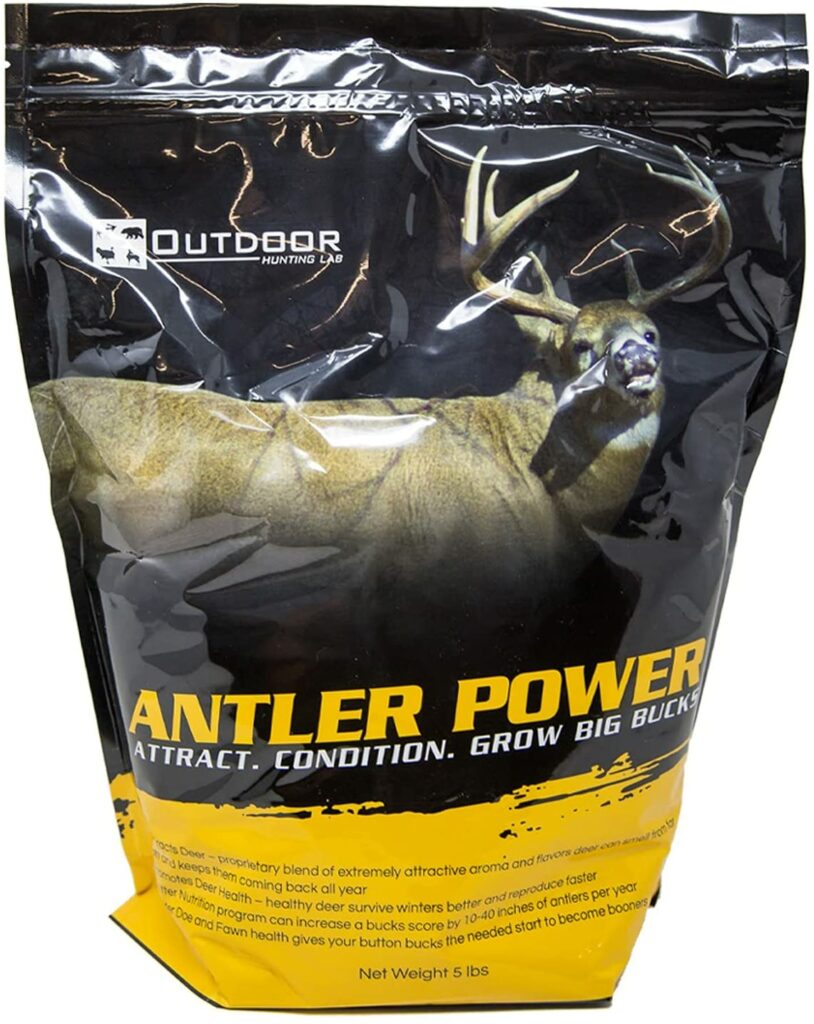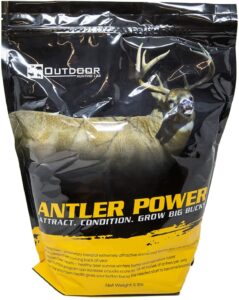 Antler Power is a mineral deer attractant & food supplement designed to work on even the most stubborn deer. It's a curated blend of attractive flavors deer can't resistant, with a scent intended to carry long distances.
The best thing about Antler power is that it's intended to nourish healthier antler growth for local herds. It's a food supplement that helps make a difference in antler growth of up to 10-40 inches in bucks (if fed around the primary age, 1-3 years old).
Healthier herds are what matters most when it comes to hunting. Buck-hunting isn't the same if the antlers are underdeveloped from malnourished bucks. That's why this is a go-to mineral supplement: it's full of vitamins and minerals that promote strong antler growth and lead to a healthier deer herd.
Additionally, this food supplement helps does produce more milk, leading to healthier fawns. The healthier the herd, the more seasons they survive, the more plentiful the rut season.
Trail cameras don't lie: hunters are seeing deer fight and dig down to the dirt to get all of this product that they can. It works almost immediately, with some hunters seeing results in just a few hours. 
Even those who have had very little success in recent years using different deer attractants find this one produces more deer activity than any other deer attractant they've tried, including 2022-2023.
The scent is strong, the deer return, and deer activity in the general area increases noticeably. If you're torn on trying this one, there isn't much to lose – a 4.3 rating with photos to prove the success makes this a worthy investment for any buck hunter. Plus, a money back guarantee.
Wildgame Innovations Sugarbeet Crush Deer Attractant - 2023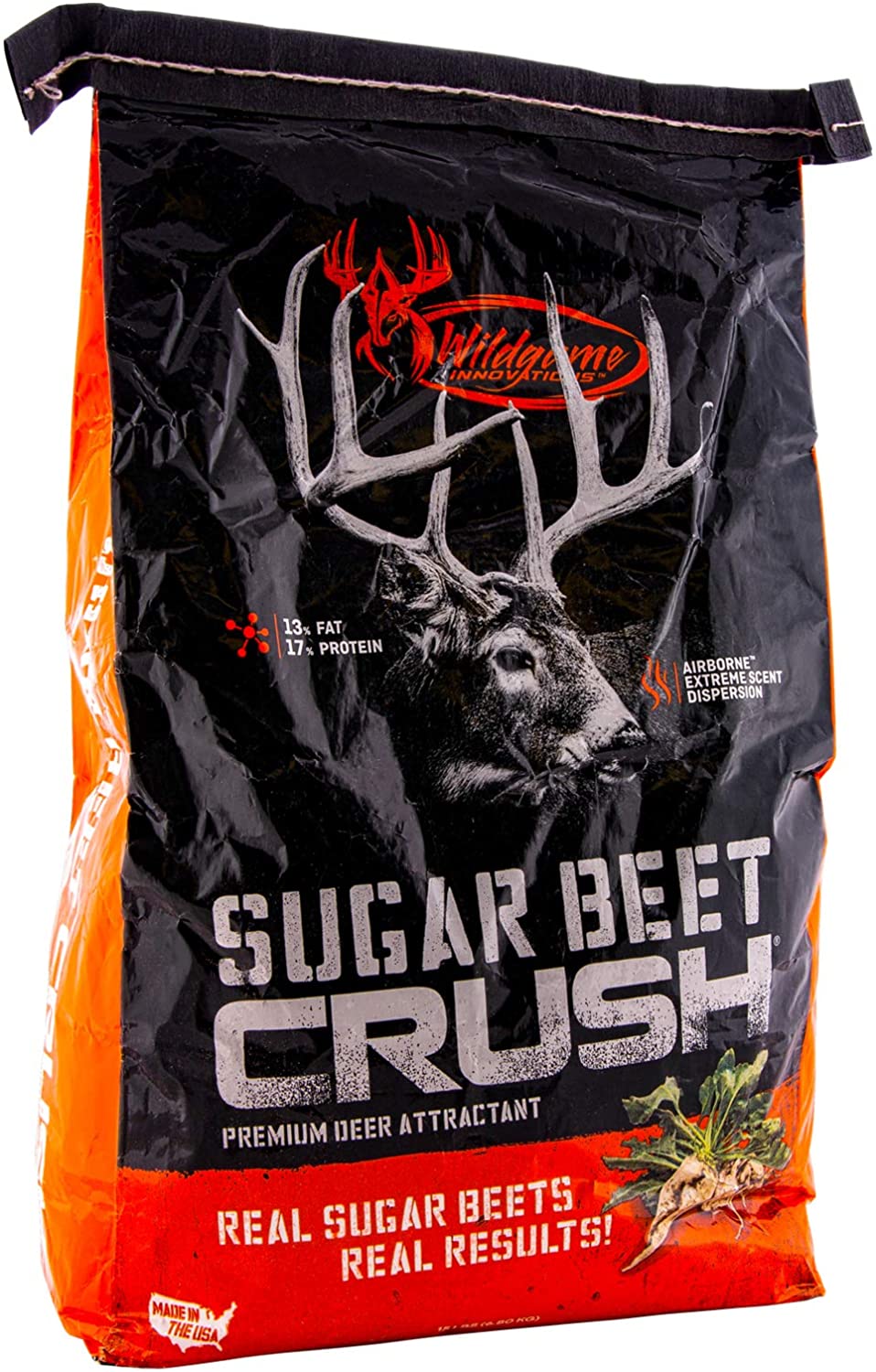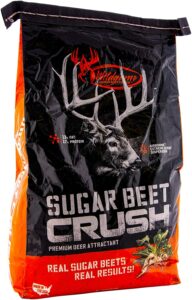 Wildgame Innovations is a trusted brand for the best deer attractants and creates some of the more popular deer attractants on the market today. When looking for the best attractant for bucks, this one can't be beaten.
This ultra-concentrated blend is a mix of sugar beets and roasted soybeans, creating a strong aroma and even better taste. Sugar beets can be hard for deer to find, so once it's out, they're going to keep coming back for more.
You can buy it in a variety of bag sizes, so you can start off small and buy larger when you're ready.
A deer attractant that has no mixing required is always one of our favorites. This deer attractant just needs the top of the bag ripped open, and it's ready to pour. It doesn't need to be in a stand and instead can go directly on the ground — snow or rain won't bother it.
Hunters have tested this nationwide and it holds up, so no matter where you're hunting, this is a must-have. Watch your trail cameras go from stagnant inactivity to 600 pics over a weekend — results you'll see and you will believe.
With over 800 ratings and boasting a 4.5 out of 5, Sugar Beet Crush from Wildgame Innovations is one of the most popular and best deer attractants you can purchase.
Affordable, easy to use, and extremely effective! Hunters love this because they pour it on the ground and the deer come in. Unlike some other deer attractants where the deer pass by or merely graze, the Sugar Beet Crush keeps them around longer and coming back for more.
The best thing about this deer attractant from Wildgame Innovations is that it works in a variety of areas: Midwest, Southeast, and more. Combine this with a few other treats or even a mineral block and you won't have any issues seeing deer coming around this season.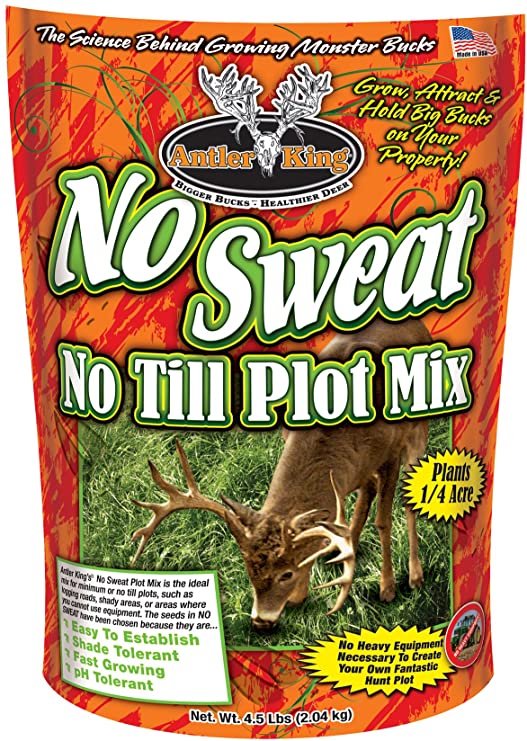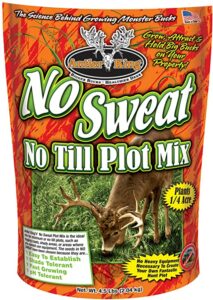 Deer plots don't have to require a lot of work, especially when you opt for Antler King's No Sweat, No-Till Plot Mix. This mix contains the right variety of oats, rye, and other mixtures you need for a successful plot without doing all of the prep work before hand.
This plot mix is tolerant to shade and varying pH levels, allowing it to be fast-growing with minimal work. It'll produce the annuals and perennials your local deer will eat up fast without constant maintenance.
If you're looking to draw deer near you while also providing them nutrition and growth, plot mix is the way to go. You can encourage deer to visit your site, provide them proper nutrients for health and antler growth, and be ready for hunting season once it arrives.
A deer plot is a popular option when considering deer attractants because it becomes a reliable spot for the deer in your area while also ensuring you're getting the biggest bucks around by giving them food for growth. 
Plus, a plot is extremely natural and unlike heavily scented or flavored deer attractants, it won't attract a wide variety of wildlife that interfere with your hunting.
Users of the No Sweat Plot Mix deer attractant recommend planting no later than early fall, seeing the best success when planting in Spring and Summer. Both novices and pros love this product because it can be planted in dense woods and still produce results. 
Plant it, leave it, show up and reap the results. That's a deer attractant worth investing in, and you don't have to be hunting in wide open areas for it to work.
With a small amount of tilling or preparation it can be even more effective, but the name still holds true for those that opted out of prepping the ground and still saw growth in a few days' time. You can choose to ready the site before planting or let it do its thing, whatever works best for you and your time. 
Persimmon Crush Deer Attractant - 2023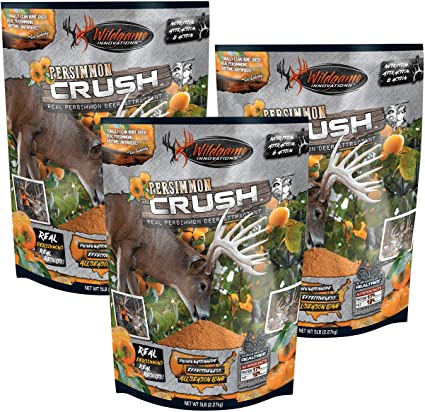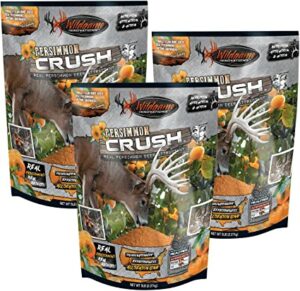 Wildgame Innovations has produced a popular attractant – the Persimmon Crush Attractant. Chalked full of fat content, fragrances, and tastes of persimmons, this is a highly effective deer attractant for the late season.
Simply open, dump, and let the deer come to you, no mixing or prep required. This is an easy and effective deer attractant that must be on your buy list this year. 
Seasoned pros discuss using this product to get "the big one" — the elusive buck that always slips past them at night. This is because the smell and taste of deer that are familiar with persimmons is hard to resist. It's a tasty treat deer can find in the wild in select locations, so if they're able to get more with ease, they're going to.
You can up your game and increase your chances of getting the big buck this season by putting out some Persimmon Crush Attractant by Wildgame Innovations. Well worth the purchase for the results it delivers. 
If your area has wild persimmons, this is the deer attractant for you. Hunters note this is most effective where persimmons grow naturally and if that's the case for your area, it's a must-get. Fluctuating results primarily occur with hunters who use this product where persimmons aren't a natural flower. Aside from that, it's amazing how effective it is for users.
Once the deer catch the scent, they'll be coming back for more. Putting out more than one pile can produce great results, especially in areas with a large population of deer. We recommend trying out a pile or two and expanding your area out as you go. A slow start can lead to worthy results.
Whitetail Institute Kraze Flavored Deer Attractant - 2023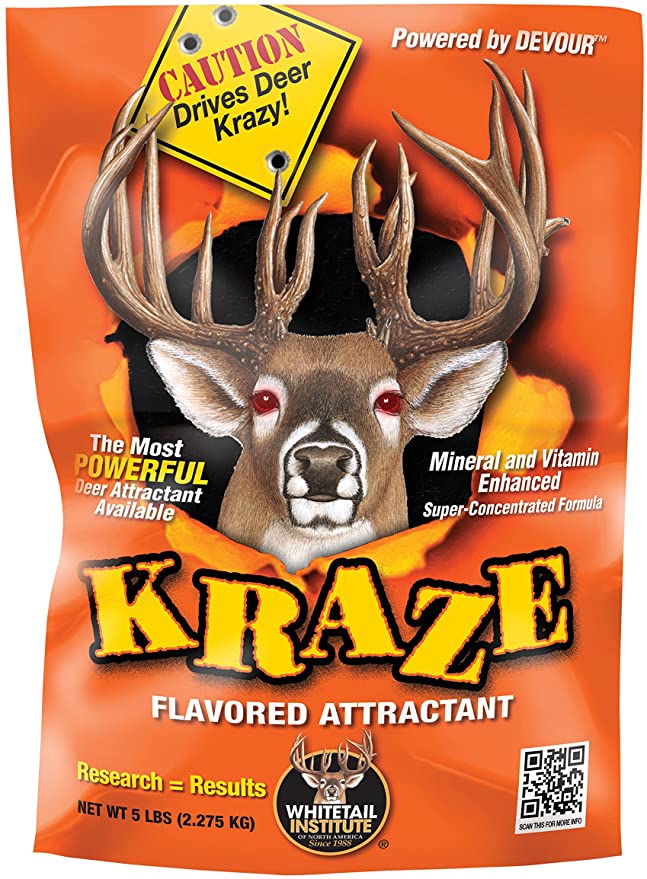 Are you a fan of Whitetail Institutes and looking for all the Imperial Whitetail Deer Attractants you can get your hands on? Then add KRAZE to your list of mineral deer attractants to pick up this year!
This deer attractant is specifically designed to attract whitetail deer in the winter and fall months. It appeals to their natural desire for sugar and has a mix of scents and tastes to appeal to many herds. Pour directly on the ground and it's good to go, no set-up or prep required.
In the top 100 of deer calls and lures on Amazon, Kraze from Imperial Whitetail makes our list of recommended attractants due to the brand's proven dedication of research to drive results. The mixture of scents and aromas makes this a powerful contender to draw any deer to the site.
If you're looking for a deer attractant for the fall or winter months, this is the right one to pick up and add to your hunting resources.
Imperial Whitetail is one of our favorite go-to deer attractant brands. They have several top-tier products and excellent customer service. Kraze is yet another addition that provides attractant options year-round.
What sets this attractant apart is the mixture of scents and aromas. Imperial Whitetail knows that odor drives a deer to a site and then the taste hooks them after. The inclusion of sugar, especially in seasons where it is scarce, is the perfect attractant for many herds.
Use this your trail cameras to track the deer all year long, reinforce their visitation habits to your favorite hunting grounds, and make plans for where you'll be hunting next season.
4.2 out of 5 rating doesn't lie when it comes to this stuff! Although not as popular or as effective as some of our other items, this is a great deer attractant for those who are looking for fall and winter mixtures or looking to change the variety of their items.
We always recommend hunters combine products if a stand alone use doesn't work. Use your trail camera to monitor the effectiveness. Hunters are happy with the results, especially at the price point.
Is this our number 1 recommended deer attractant? No, but we've found many hunters are looking for the next hit item, and this could be the one!
Liquid Mineral Attractants
Evolved Liquid Co-Cain Deer Attractant - 2023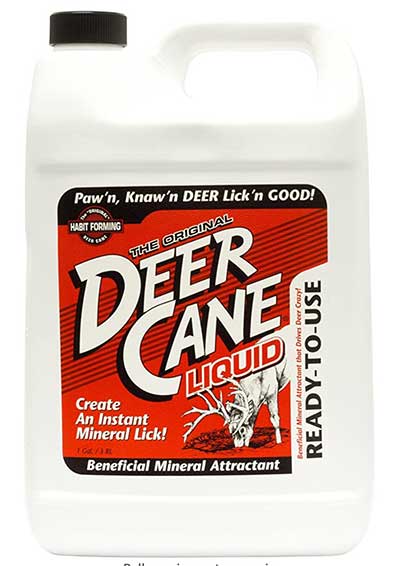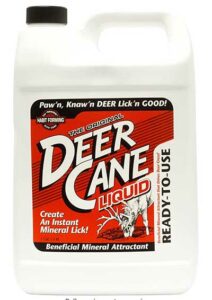 If you're a fan of mineral mixtures, you can also opt for liquid deer attractants over standard mineral mixes or salt licks. These are a beneficial option because they do not require any mixing and applicable to a variety of surfaces.
Evolved makes their liquid Co-Cain in a liquid form, utilizing natural molasses flavors and mineral enhancements. Unlike some other liquid deer attractants, Co-Cain from Evolved does not require any mixing and can be used directly out of the jug.  This is the best deer attractant in liquid form on the market.
Liquid deer attractants are long-lasting and soak the ground immediately when applied. This makes the ground and mineral that much more enticing to deer, who are determined to get all of the nutrients available. This leads to return visits and excessive digging in order to obtain all that they can. This is a perfect attractant that requires no set-up but great results.
The scent and taste is what keeps the deer coming back. You may see large holes from their continued pawing to retrieve the stimulant, which is a great way to know if this deer attractant is working. 
Users boast that they see a large turnout every year they use the liquid product, especially when spread out over a wide area. Don't limit yourself to a small portion of land, spread it out and take advantage of the liquid form that requires no prep.
The best use of this product is to mix it with additional minerals to provide enough nutrients to the deer, but once that's completed they won't stop coming back. 
You can expect quality results when utilizing a liquid deer attractant like Black Magic, especially in combination with other products that stimulants all of a deer's senses. 
Liquid Buck Jam Deer Attractant - 2023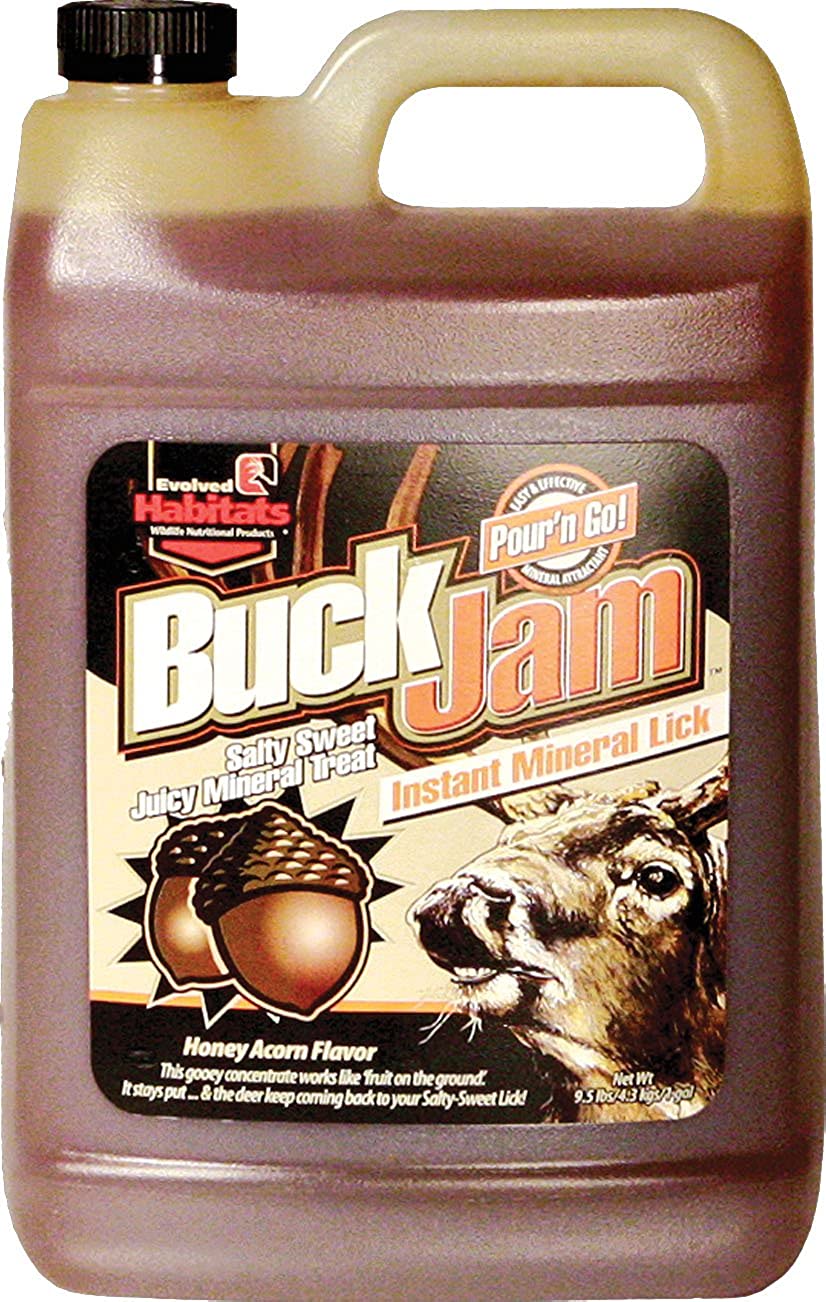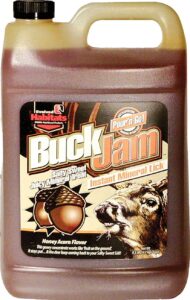 Evolved Habitats doesn't just produce liquid Black Magic deer attractant, they produce an entire line of liquid Buck Jam that is widely popular among hunters. 
Take everything you like about the Black Magic liquid deer attractant and add some flavors and you've got a varying line of liquid deer attractants to choose from for even the most selective deer.
Available in Sweet Corn and Persimmon, the Honey Acorn is by far the most popular when opting for a liquid Buck Jam flavor to attract deer to your site. 
This is most likely due to persimmons and sweet corn varying in different regions but honey acorn is a widely available natural flavor no matter where you are located.
Buck Jams not only provide minerals, but they also use specific flavors and scents to draw bucks in. It's a versatile product that can be used with other attractants or on its own. Unlike Black Magic, where it's best used alongside other attractants to give it a stronger scent or taste, the Buck Jam has added in that flavor for you.
Although we recommend the Honey Acorn flavor based on its popularity, the Sweet Corn and Persimmons varieties allow you to purchase the flavor that is most commonly found naturally in your area. Take advantage of this variety based on the season or your hunting location.
Users note placing this on corn or tree stumps provides the most successful results, and it's not as effective when poured directly on the ground. If you hunt remotely in flat land areas, this may not be the choice for you. However, if you have access to stumps or other natural elements, you definitely want to give it a try.
The one drawback to Buck Jam deer attractant is that it may do more than attract deer and bucks to your site, so be careful of any other animals that come checking it out. Because of the strong flavors and scent, you may find other animals coming in to inspect the attractant, so be mindful of other wildlife in your area. 
Synthetic Deer Urine DEER DANDER - 2023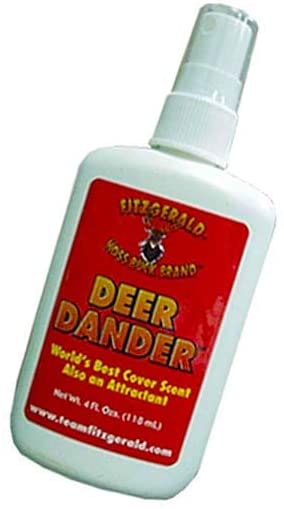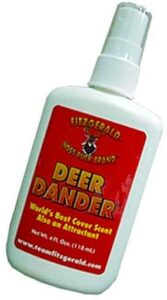 If you're looking to cover your scent and bring bucks right up under your feet, synthetic deer urine is the way to go. A misting spray works perfectly to cover your scent and can be applied to shoes, clothes, and other items. 
Remove the hassle of covering your scent by investing in a compact 4 oz. bottle that doubles as an attractant. The best part is that sprays and mists catch on foliage, travel further, and are still just as strong as liquid comparisons in luring bucks to your location. 
That's why Deer Dander synthetic deer urine is a popular purchase — it goes further with less effort. 
Whilst some states have made the use of real urine products illegal, synthetic deer urine is legal for use from trusted, reputable brands. Team Fitzgerald even goes the extra mile and bottles their product fresh daily, so you always get the best scent, every time.
This catches our eye and makes our list because of its two-fold use. Synthetic deer urine allows you to mask your scent while also pulling bucks in. The fact that the misting spray can also catch on the wind and coat foliage, drawing in bucks from further away, is a big bonus. Doing a lot less gives you a lot more results. 
If you're not sure if an attractant is right for you, using this as a scent cover could be a good way to test the waters. 
Team Fizgerald's Deer Dander Red receives rave reviews from experienced hunters, noting that bucks often slip up unnoticed when hunters aren't even on the lookout. Hunting prep is significantly reduced due to the amount of scent coverage the deer attractant provides, meaning less preparation of clothing, gear, and more. 
You do have to watch out to make sure you don't use too much at once, causing the bucks to act skittish if the amount is unusual. Remember that less is more and you can slowly increase the amount if you're not seeing results with a light mist to begin. Otherwise, this deer attractant brings in bucks that are at ease, clueless, and calm — perfect for having a good season. 
Why Should I Use a Deer Attractant? Is It Worth It?
Do deer attractants really work? Are they worth the hassle of planning ahead and checking local baiting laws?
The answer is YES.
Hunters use deer attractants for a myriad of reasons. The most notable is that deer attractants: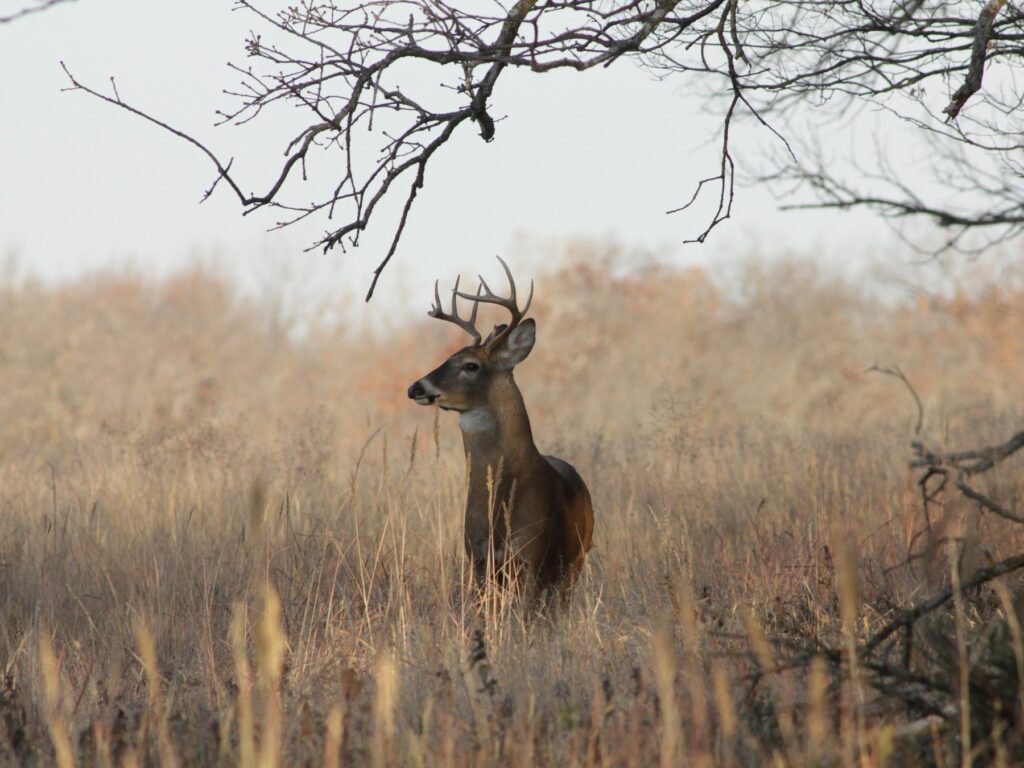 Depending on the deer attractant that you use, you may encourage deer to visit your hunting grounds on the regular, making it a part of their herd habit (food-based attractants), you may facilitate healthier herd and antler growth (mineral-based), or you could draw a buck to you by appealing to their natural senses (scented attractants).
Using a deer attractant means better predictability during the hunting season. Mineral and food-based attractants used earlier in the year, prior to hunting season, will have helped to establish a regular travel pattern for the local deer in your area. Combing those attractions with trail cameras, you can have an established plan of where to hunt and when, when hunting season arrives. This cuts down on time spent tracking deer or sitting and waiting, hoping for good luck.
Scented attractants add an additional layer of drawing deer in the area to you. These scents cover your own while appealing to a buck's natural instinct, especially during the rut. This allows you to set up your shot and get your harvest in less time than you would otherwise expend.
Deer attractants are not a magical draw of all deer to you, but they aid experienced and novice hunters alike in learning the patterns of their local deer, setting up a hunting ground, and cutting down on tracking and luring time.
Using a deer attractant can make for a better harvest, better meat, and more points from larger antlers.
How Do Deer Attractants Work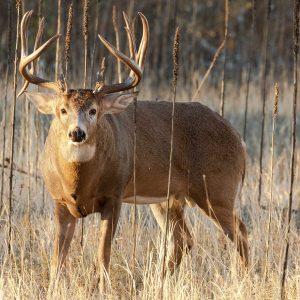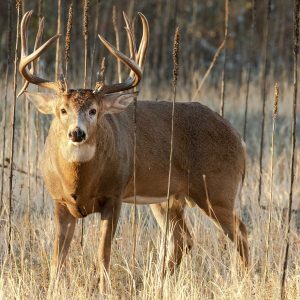 You may be wondering how deer attractants work since they've been proven to be so effective. What is the secret to a deer attractant over a deer call or any other hunting method?
Deer attractants are effective because, when used correctly, they appeal to a deer's natural senses and natural rhythms. This is one reason you'll find most deer attractants are used so effectively even in the offseason – it keeps deer moving to the same location because they have learned to trust and find nutrient sources at that location.
Mineral-based deer attractants are effective and work to appeal to a deer's natural need for nutrients. The minerals are not only tasty but provide them the supplements they need to be healthier. Like any animal, they will seek out the items that aid their bodies the most.
Scented deer attractants work by targeting a deer's sense of smell. Whether a harvested odor or man-made, the scent mimics doe urine and other scents that draw bucks to a location. Bucks and other deer use their sense of smell to determine if an area is safe or if a doe is present, especially during the rut. Hunters gain the benefit of drawing a buck to their location while covering their own smell using a scented attractant.
These all work because they have been created to mimic natural occurrences and supplement where there is a need for more – whether it be minerals, plot mixes of plants, or an odor that the buck desperately wants.
How to Use a Deer Attractant
Each deer attractant works differently and has a different set of recommendations for best use. Some are used on their own and others are mixtures (or best used as mixtures).
Based on the type of deer attractant you are using, here's our recommended way to use; remember, always adjust based on your results – a trail camera is a great way to monitor what is working and what isn't.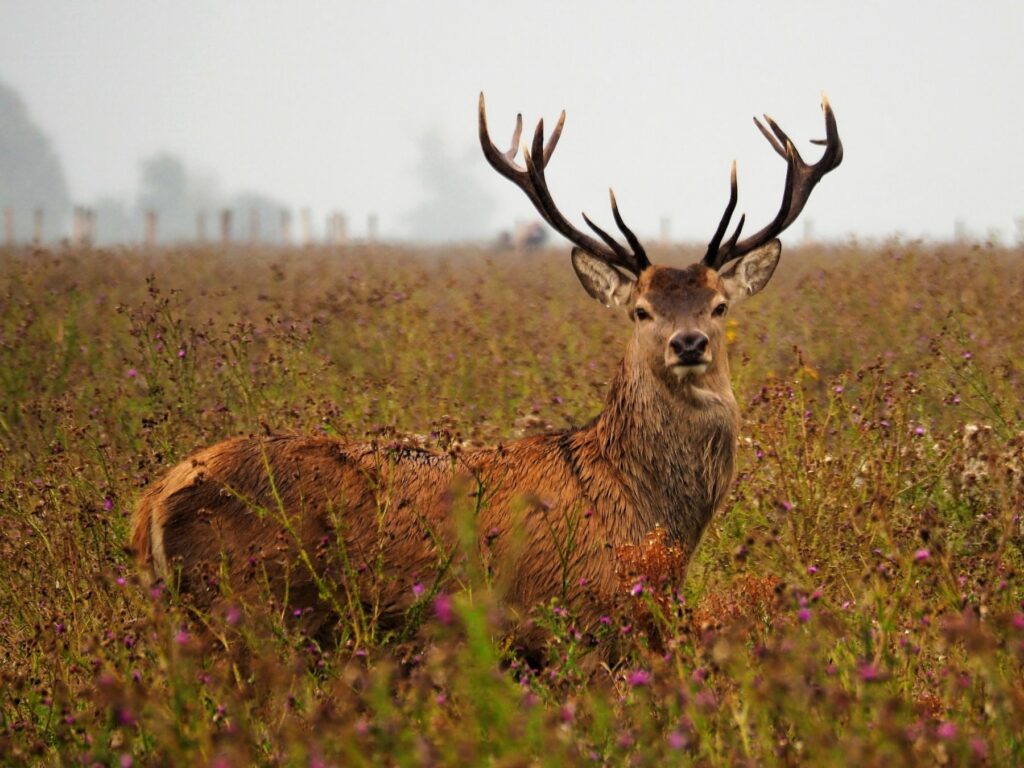 Are Deer Attractants Legal
Something all hunters need to remember to consider is the attractant vs baiting laws in the area they will be hunting. Each state has different laws for how different attractants may be used. For example, Maryland allows any type of deer attractant to be used year-round on private property. In Alabama, however, all bait or food attractants should be removed from the desired hunting location 10 days prior to hunting season.
Always check your local hunting laws before the hunting season begins!
The general law for most states, but not all, is that bait or food deer attractants are allowed outside of hunting season and on private property. In most cases, there is no law against feeding the deer or tracking them with trail cameras during the off-season.
If you're unsure of your state's hunting laws on food or mineral deer attractants, check a reputable source for confirmation.