Modern hunting has evolved from what hunting used to be — you're no longer restricted to walking the woods all day, burrowing under bushes, and trying to stay completely still at ground level as you wait for the perfect buck to wander by. Instead, we have tree stands, and a lot of them to choose from.
It may seem like a simple concept: get up and out of the line of sight of the deer, conceal yourself and your scent while getting a better advantage to line up the right shot.
 There are numerous tree stand varieties out there, though, and you want to ensure you get the right one to make your hunting trip work for you. This means knowing the portability of each tree stand, the room you'll have up on the platform, and if you can leave it up or need to continually take it down and transport it after each hunt.
This Ultimate Tree stand Guide will break down what types of tree stands are available for purchase, the pros and cons of each design, and we'll recommend the top-of-the-line tree stands for each category. 
PLUS we've included some tree stand accessories you'll want to pick up to get the most out of your hunt. We cover safety, accessibility, and more so you can ensure you invest in the right tree stand for your 2022-2023 hunt.
| | | | | | |
| --- | --- | --- | --- | --- | --- |
| | | | | | |
| | | | | | |
| | | | | | |
| | | | | | |
| | | | | | |
| | | | | | |
| | | | | Flip Away Seat & Footrest | |
| | | | | | |
| | | | | | |
| | | | | | |
| | Rivers Edge Big Foot TearTuff XL Lounger | | | | |
What are the Advantages of Hunting from a Treestand?
So why do hunters choose to hunt from a treestand vs general concealment at ground level? Is it really worth it to invest in a treestand, set it up, and perch above the hunting grounds?
The short answer: absolutely. Once you're up in a tree you remove your scent, your movement, and any rustling from the line of sight of local deer in the area. Plus, you've got a better shot and more time to get ready when the perfect buck wanders into sight. Here are the top reasons why hunting in a treestand can improve your hunt.
What are the Different Types of Tree stands 2022
If you're new to hunting you may not be aware that there are various types of tree stand designs you can invest in. The most notable are Hang-On Tree stands, Ladder Tree stands, and Climbing Tree stands. So what's the difference between the three and which one is right for you?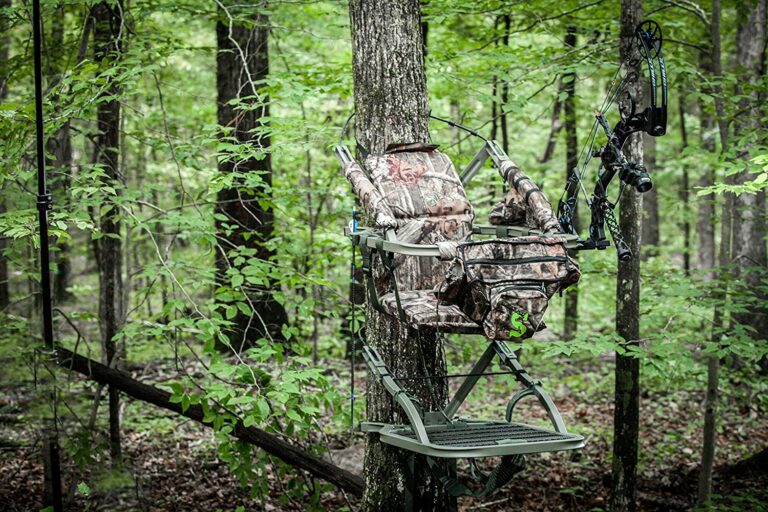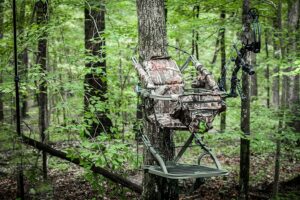 Fast set-up
Easily portable
Lightweight
Steps/rails not needed
Tree restrictions
Must be taken down after each use
Climbing tree stands are the best tree stands most hunters opt for. They are extremely popular due to their lightweight design, easy transport, fast set-up, and entry/exit materials included in the design. Everything you need to ascend, secure, and descend is included.
The two drawbacks to climbing tree stands is that you are limited in which trees you can use due to limb placement and the teeth-climbing mechanism, and you have to take the tree stand down after each use.
This is not a problem for most hunters, however, as it allows versatility to select different hunting locations and they have less gear to carry. Most of our recommendations for the best tree stand are climbing tree stands.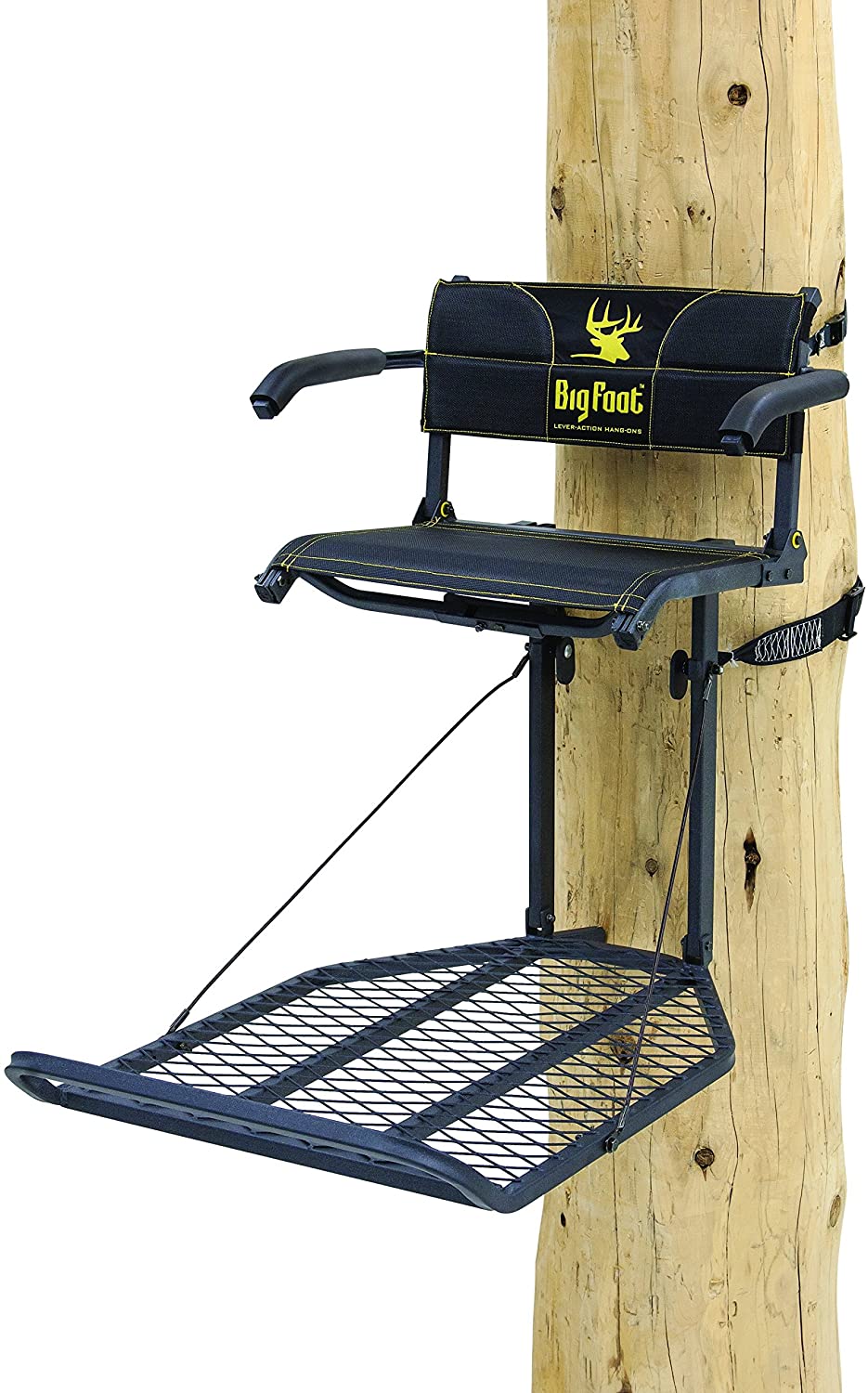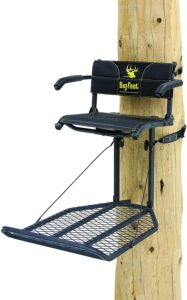 Lightweight
Most portable
No height restrictions
Semi-permanent
Accessories needed to climb up and in
Hang-on tree stands are the most portable options for tree stands. They are extremely lightweight and attach to trees via belts or chains. This is the best option for people who have to hike a long way or don't have the option for a permanent tree stand, like a ladder stand. That said, these can remain up after securing it, so they are a semi-permanent option.
The drawbacks with hang-on stands are that they are often only 4ft x 4ft worth of space and they require separate climbing instruments to enter and exit the tree stand. However, you can position them at any height and they were great for hunters who hit a variety of areas each season.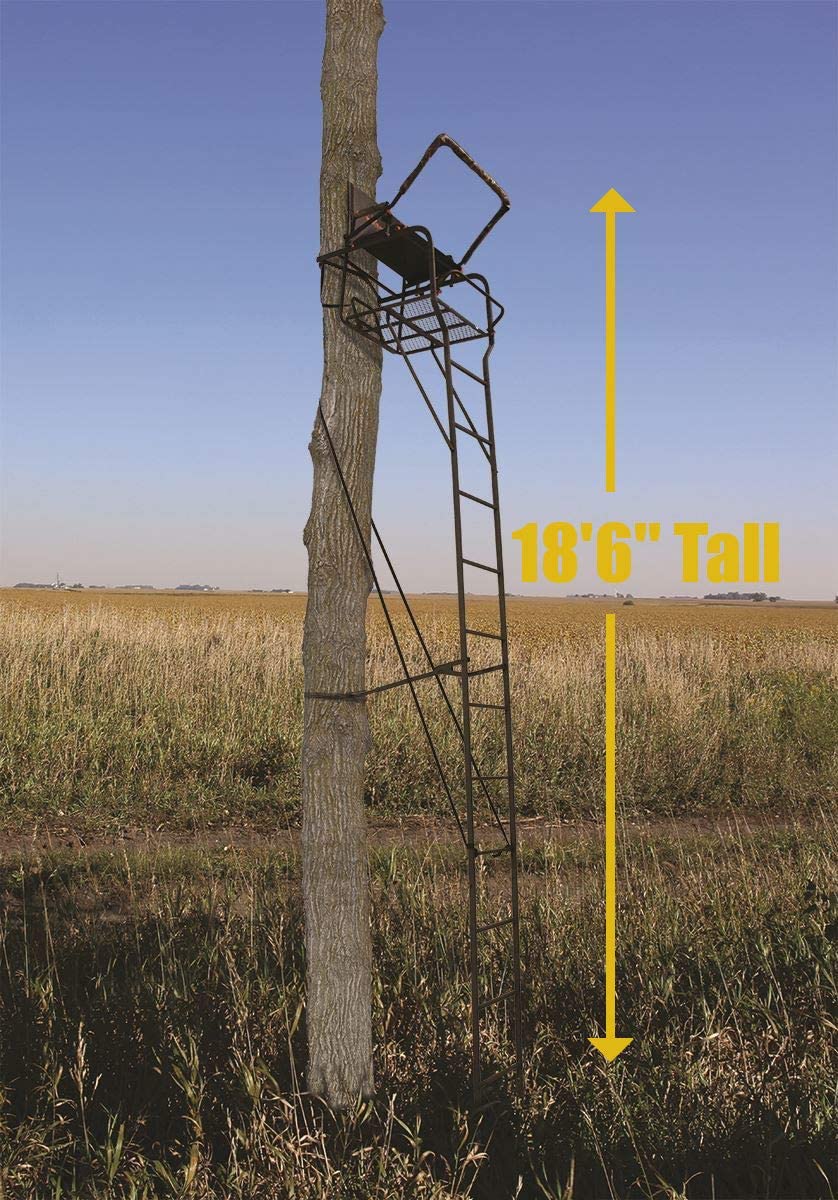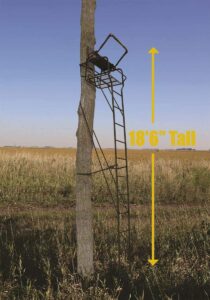 Easiest entry
Semi-permanent
Best for young or new hunters
Spacious with large platforms
Heavier
Hard to transport
Ladder tree stands are most popular with hunters who want a stable platform and a hunting home base. These are not easily portable and instead should be constructed early, with at least two people, if not more.
The benefits of the ladder tree stand is that it has more room than any other tree stand, comes in one or two-person options, and has an easier climb with the ladder attachment (although you should still ALWAYS wear safety harnesses and gear for entry and exit).
Although you can't control the height of the ladder tree stand, it is predetermined, you get more space, easier entry, and a home base for each hunt for the season. If you know exactly where you like to hunt and want a tree stand to rise you off the ground instead of climbing high, this is the best option.
Best Climbing Tree Stands 2022
Summit Viper SD Climbing Tree Stand
The Classic Tree Stand from Summit Every Hunter Loves
You're about to read about a lot of Summit Tree Stands and the reason is clear: Summit tree stands can't be beat when it comes to getting the best of the best: comfortable, affordable, portable, and reliable. Summit tree stands use the best welding technology, factor in all-day comfort, and keep in mind portability and transport.
The Viper from Summit tops our list for climbing tree stands for a lot of reasons. First off, it works for both bow hunting and rifle hunting, so you're not limited to only breaking this out during certain seasons. A raised seat gives you bow hunting advantages and you can lower the seat to line up your gun shot. 
Second, it's lightweight and easily portable. You're probably better off switching out the straps for longer hikes (anything over 30 minutes) but the aluminum construction means you're not carrying heavy steel each and every hunt.
A third great reason to invest in this Viper tree stand is that it works on almost every tree — it can handle a variety of trunk sizes and has several features that secure it safely in place. 
Comfort, comfort, comfort. What's the drawback to this tree stand? If you're not alert it'll lull you back to sleep it's so comfortable. If you're a seasoned hunter you know nothing beats a comfortable tree stand and if you're new to hunting, take our word on it — this is an area you don't want to scrimp on. 
Hunters enjoy the comfort but also the stability. The fall harness and protection is stable, so no concerns about any mishaps you encounter while up in the tree. Removing the padded seat makes transport and set-up easier, but you definitely want to add it back on before you sit down, so don't leave it at home.
This works great for female and male hunters alike, since it's so light, transport is a breeze. Plus, it has an easy set-up so you're not scrambling around in the dark, confused and trying to figure out a complex design. This is the tree stand to get, no doubt about it. 
Summit Goliath Climbing Tree Stand
The Original Big Man Stand for Large Hunters
Take the Summit Viper tree stand and add a little extra room for your larger hunters and you've got a recipe for success. The Goliath takes everything you love from the Viper and adds a wider top for more room and better comfort. The best thing? Weighing in at only 21 pounds, it's still lightweight and easily transported but it holds up to 350 pounds. Perfect for large hunters or those who want to haul a little extra gear.
Mile-long treks with this treestand on public hunting grounds feel like nothing when packed properly, so you don't have to concern yourself with short hikes to avoid tiring yourself out. It still features arm pads for comfort and transport straps are included with the purchase. Plus, the seat is easily removed and added back on for simple set-up. Treat yourself to some extra room with the Goliath treestand from Summit. 
Boasting almost 5 stars from over 400 reviewers, this is one of our top picks for tree stands. Novices and seasoned pros alike can easily carry this tree stand, the set-up is simple, and it offers more than enough room for you to prep your gear and line up your shot. 
We have to say, our favorite review from a fellow hunter was "it feels like a Cadillac" so can you really beat that? Arm rests, back rests, secure build, trusted gear for safety, and foot clamps to help with the ascension all make this a win.
Other perks include all the space you need to turn around and get comfortable, it's heavy duty while being lightweight, and it'll lull you to sleep if you're not careful. The one piece of advice hunters give is to get used to the harness before you head out on the hunt and replace the straps for better transport. All in all, the last treestand you'll ever want to buy. 
Summit Titan Climbing Tree Stand
The Goliath from Summit not big enough for what you need? The Titan is right up your alley, then. Roomier than the Goliath, it will give you all the space you need for bow hunting, rifle hunting, handling your gear, and more. 
Just as simple to put together, set-up, and carry as other Summit models, this one can handle up to 350 pounds but weighs 25 pounds its self. However, it is two inches longer than the Goliath model, both the top and the platform, giving you four additional inches of space overall. 
It's just as stable, reliable, safe, and portable as all the other Summit models, so trust in the name and get the space you need. 
Transitioning from stationary tree stands to portable ones? Hunters like this as their choice! The room alone is enough to rave about, plus it's just as comfortable as the previous models. 
Hunters who top over six feet tall and weigh over 300 pounds love this model because it gives them all of the room they need and more. Users find it easy and comfortable to transport, despite the additional weight compared to previous Summit models. 
Like previous Summit models, the transport straps aren't the best so they made need a little modification. The Titan is recommended for colder hunts when you've got more gear and more bulk, so if you love the Viper or Goliath but need something for winter, this could be the right investment. 
Summit Viper Steel Climber
Perfect for Hunters Buying on a Budget
Everything you love from the Summit Viper series but at a lower cost thanks to steel construction! 
A lot of hunters always opt for the Summit series when it comes to purchasing a tree stand, but it isn't always cost-efficient for those new hunters who are just getting their gear together and are having to spend a lot at once. If you've been interested in checking out the comfort of a Summit tree stand, the Viper Steel can be the perfect introduction to the brand. 
The Viper Steel boasts almost every perk from the original Viper — comfortable seat, security, stability, lightweight, and easy to transport. You're gaining a bit more weight, a little less than 10 pounds added on overall for a 29 pound total, but for short treks, this is nothing to worry about. If you're ready to get your hands on a Summit Tree stand, this is a great way to begin. 
New hunters like the Viper Steel and for good reason: it's a great affordable tree stand, easy to set-up, and not too bad to carry. Both new hunters and experienced hunters alike will recommend the aluminum construction Viper if you're having to travel long distances or rough terrain. The Viper Steel is ideal for short, easy treks that don't require a long hike to arrive at the prime spot. 
As with most Summit stands, do yourself a favor and upgrade the travel straps for better comfort — after that, it's smooth sailing. The Viper Steel is so simple to take down and set up you can move it from tree to tree to ensure you find the prime spot, and it won't be a hassle. Plus, the comfort of the seat will allow you to stay out longer and the stability of the treestand won't give you any reason to hesitate.
When buying a treestand on a budget or as a new hunter, go with the Viper Steel model. 
Summit Mini Viper Climbing Tree Stand
Smaller Design, Lighter Weight, No Compromise on Comfort​
There is a Summit tree stand for every hunter and the Mini Viper further completes that series. Designed with a smaller top and platform, the Mini Viper Tree Stand is intended for smaller-framed hunters or child hunters but it is a great option for those looking for the lightest tree stand to carry.
It is still adjustable to handle bow hunting or rifle hunting and it has the same comfort seat, stability, and trust you expect from all Summit tree stands. The Mini Viper is perfect for those who want a comfortable tree stand that is more custom to their size and they're not looking for all the space or weight a larger Summit tree stand provides. It folds up for easy transport and is a reliable tree stand by many hunters. 
Less metal, less weight, easy to transport, and not much lost in the way of quality. Hunters love this tree stand because of how lightweight it is while still providing all-day comfort for long hunts, especially those long days bow hunting.
While initially marketed for children or small hunters, this tree stand is popular among those who want something easy and light to carry — many hunters who recommend this product average right under six feet and just under 200 pounds and don't have any problems getting comfortable in this tree stand. It's ideal for longer hikes or those who know they don't want the extra room. 
Best Ladder Tree Stands 2022
Big Game The Hunter HD 1.5 Ladder Stand
A Ladder Tree Stand Prioritizing Comfort
Interested in a ladder stand instead of a climbing tree stand? Big Game has you covered. The Hunter HD 1.5 ladder stand is all about comfort, mobility, and optimizing your hunting space. 
Big Game uses Flex-Tek to ensure undeniable comfort in their seat and back rest, so long days sitting and waiting for the right buck to wander in aren't uncomfortable. This ladder tree stand optimizes space by having a flip-away seat, shooting bar, and footrest. This means everything is designed to make your hunt more efficient without sacrificing comfort. 
A ladder stand with comfort? This one is it. Hunters buy this stand again and again because it holds up to long hunts and keeps them comfortable on even the longest days. This is best suited for gun shooting and isn't the best fit for bow hunting, though it can get the job done for either season. 
Users recommend getting together with a buddy to set this one up but it's simple enough to understand and secure. Once it's up, it's smooth sailing, so sit back, relax, and get ready for a good hunt. 
Big Game Striker XL Ladder Stand
Affordable Ladder Stand with Roomy Platform
An affordable ladder stand with a roomy platform designed for bowhunters and rifle hunters? The Striker XL from Big Game checks all the boxes. 
Hunters love this ladder stand because it can accommodate their height and weight without compromising comfort or efficiency. Users range from those over six foot tall to those who just want the extra room an XL platform can provide. Plus, it's one of the best prices on the market for an easy-to-assemble ladder tree stand. 
The reviews for the Big Game Striker XL Ladder Stand rave about the affordability, space, and ease at which bowhunting can be done. It's not always an easy build but once it's together it has all the options you need for an all-day hunt — adjustable bar, movable seat, and a platform that gives access to your gun or bow. There are no complaints about long days, so you can comfortably settle in and wait for the right buck to come on in.

The Striker XL loses rating points mainly due to Big Game's customer service — you may or may not have to pick up some parts from your local hardware shop to complete the build if anything gets lost during transport, so being handy is almost a must. If shipment arrives correctly, it will be smooth sailing — secure fit to the tree, long lifespan, and affordable price for comfort. 
Best Hang-On Tree Stands 2022
Lone Wolf Alpha II Hang On Tree Stand
When Lightweight and Portable is What You Need
The Viper from Summit not cutting it for you? Hunters have traded their classic Viper for the Lone Wolf Alpha series when what they really need is lightweight and extreme portability. 
We have to recommend this one because if you're an on-the-move hunter, this is the one for you. Because it's so lightweight you'll have no problem trekking with it on long hikes and you can easily move it throughout the day if you're trying to find the biggest buck of the season. 
It comes with everything you need but a few accessory purchases will make this tree stand even better, including padded back-up straps, a more comfortable harness, and the E-Z hang hooks. If you're trying to adapt to a wide variety of trees, Lone Wolf also offers a tree accessory to fit even those that bend every-which-way. Really, the possibilities are endless. 
With a 4.9 rating from over 200 users, it's really hard to find a fault with the Alpha II Hang-On Tree Stand from Lone Wolf. Hunters love it, and here are a few reasons why: incredibly stable, ultra-lightweight, easy and fast set-up, solid construction, quiet, and secure. 
The price is well worth it when weighing your tree stand options and hang-ons are popular for public-grounds hunting. The Alpha II is super simple to pack into a truck and carry when searching for the right hunting spot and almost all of the parts are replaceable. Once you're in the woods, assembly and set-up takes maybe 10 minutes and with quiet construction you won't be spending time making loud noises scaring away your prey.
If you're looking for any cons, it's definitely not as comfortable as the Summit tree stands, so consider your hunting style when prioritizing comfort or portability. At the end of the day, though, you won't regret investing in the Lone Wolf Alpha II, especially with all the upgrades available to take it from great to perfect. 
Lone Wolf Assault II Hang On Tree Stand
Your Lightest Tree Stand Option for Long Hauls and Tight Fits
Long trips? Tight fits? The Assault II hang on tree stand from Lone Wolf was designed for you. 
This is the go-to tree stand for hunters who are always on the move and working in dense forests where the trees aren't always easy to work with. The Assaults II will feel like nothing on your back and will grant you access to even the tightest fits when it comes to getting up in a tree. 
This is a favorite of ours because it's hugely popular with other hunters and works in areas where other popular tree stands don't fit. If you're willing to sacrifice ultimate comfort for ultimate portability, this is the pick for you. 
We've got a winner here! Trying to select the perfect tree for your tree stand placement is a thing of the past with the Assault II from Lone Wolf. It was designed with tight fits and unruly trees in mind, so you can spend more time hunting deer and less time hunting for the right tree stand location. 
This tree stand is dead silent when in use, so no fear of a creak or squeak alerting the deer to your location before your shot is lined up and ready to go. Even if you're primarily a stationary hunter, adding this tree stand to your pack for the season will give you the option to explore new locations and broaden your area for a better overall hunt.
As with most tree stands, a few modifications can take you a long way, so watch some videos from Lone Wolf on how to modify this for better comfort and easier mobility, which will take it from a great tree stand to a nearly perfect one. 
Rivers Edge Big Foot TearTuff XL Lounger
Hang-On Tree Stand on a Budget
In need of an affordable tree stand when buying on a budget? This is the one for you. Not every hunter can afford the roomiest tree stands on the market, especially when just starting out or getting to know your hunting land. This is our top pick for an affordable hang-on model that doesn't compromise on safety, stability, or portability. 
The River's Edge brand in general is a popular one with hunters because they focus on silence, stability, and easy ways to attach to a tree. The lever-action allows you to forgo a second strap without sacrificing the stability you need for safety. 
If you're new to tree stands, hunting, or in need of a tree stand quick and can't afford a roomier or more versatile option, the Big Foot TearTuff XL Lounger has a lot to offer and it won't feel like a budget-buy. 
What do the reviews say? You'll probably want to buy more than one! The price tag on the Big Foot TearTuff XL Lounger means you can invest in more than one tree stand for the season to give you the most hunting location options available. Experienced hunters use them to move about from location to location without needing to worry about a new set up each time and they strongly encourage new hunters to pick one up if they're just starting out.
The price doesn't mean a compromise on quality though. You can easily have a comfortable hunt in this tree stand for at least up to 6 hours, if not longer. Assembly is quick and easy and the flip-away seats and arm rests provide extra comfort for long waits. The best part is it is dead silent, even when moving from sitting to standing or kicking off the foot rest. 
We like to think there is a tree stand that offers comfort and affordability for every hunter, and this one proves us right. 
The Best Tree Stands Accessories for a Better Hunt
At this point you've probably caught on that almost every tree stand can use a little modification. Tree stand accessories can assist with portability, comfort, ease of use, access, and a whole lot more.
While you definitely don't need anything to make your tree stand work for you, these items are worth noting in case you want to pick them up to make the hunting season a little bit more convenient and comfortable for you. 
Got a tree stand you can leave up without having to worry about weather damage? The Master Lock is perfect for your needs.
Even when your tree stand is kept on private land, it doesn't stop trespassers from wandering by. In order to protect your investment and keep your hunting area safe, add a master lock to your hunting gear and know that your stand is secure. Plus, these work for trail cameras and other gear, so they can be repurposed even when your tree stand is brought in. 
If you decide to go with a Summit climbing tree stand (or any climber for that matter), the Summit climbing stirrups will help make a world of a difference in your hunting experience. 
Climbing stirrups give you a leg up when ascending a tree stand, perfect for those who aren't in their prime, want a faster climb, or appreciate the stability and ease stirrups can provide. Although plastic, these are stable and secure. Avoid pulling toe straps over your boots and reach the top with ease. 
While some of the tree stands we recommend excel at comfort, not all of them are optimized for an all-day stakeout waiting for the perfect buck. Add a little extra comfort to your hunt with a Big Game seat cushion.
This seat cushion for tree stands ties on with a string and stays secure in place. While it still won't be the most luxurious pillow you've ever had, it'll make the difference when out on a hunt. 
Safety first! Upgrading your safety line from the manufacturer-provided equipment can really make a difference in your hunting style and comfort.
For bowhunters especially, we like this safety rope because it provides more mobility while ensuring a safe tether to the tree. You'll have a bit longer of a leash which will grant you draw access for back and side shots you'd otherwise be limited with. Plus, it's simple to use, so even new hunters can feel secure when hunting from a new tree stand on their first hunt. 
If one safety rope is good, why not three? Save some money and purchase the 3-pack tree stand lifeline safety rope bundle. 
These ropes have reflective material so they're visible when needed without alerting deer to your location. They slide with ease, which makes for an easy climb, and the material is tough and durable. Great for those who have more than one tree stand or who like having the extra equipment on hand. Hunt with peace of mind with the right equipment. 
Sometimes the harness you're supplied with your tree stand purchase isn't the comfiest thing. The Hunter Safety Systems Harness is great for those who want something with a little extra comfort and that can accommodate multiple layers.
This is a great pick for a safety harness because it's exceptionally comfortable — hunters put it on and forget it's there. While most users note it's totally silent, those who wear single layers might notice some sounds coming from the leg straps. A little extra clothing can help conceal that, but it's a small con in an otherwise high-quality tree stand safety harness. 
Summit Tree Stands are known to last a long time (that's why we recommend so many of their styles). Cables, however, are often victims to the weather after quite a few seasons, and you always want to ensure your tree stand is in top shape.
While you may not need these right away, keep them on hand for when your cables do need replaced down the line — same high quality, easy to replace, and no need to fiddle with repairs. Keep your same, favorite tree stand with small parts replacements when they're needed. 
Tree stands aren't exactly known for having all the space in the world, which is why a storage bag could be the solution to the question, where does all of your gear go?
The Summit storage bag can fit Summit tree stands with the front bar and most other commercial tree stands. It's weather-resistant, so rain and snow aren't an issue, and is quiet when rummaging through for your range finder, snacks, water, or other items. 
Leave your gear bag at home and instead pack this with your knives, phone, wallet, keys, ammo, lights, harness, and more. 
A lot of tree stand accessories are focused on making the climb easier and the climbing sticks from Lone Wolf are one of the best options you can opt for. 
These are designed to attach easily to trees of different sizes and shapes and even feature reversible steps. Hunters like these because they're quiet, simple and fast to lock onto a tree, and really bite into the tree for a secure hold. Make sure you've got your safety line on during the climb, as they can feel strange to new users, but once you've got the hang on it you'll be climbing with ease. 
Wondering how you're going to transport those climbing sticks we just recommended? A stick quiver is how, because Lone Wolf has thought of everything. 
The quiver snaps directly on to your hang-on tree stand and easily fits four, but up to six, climbing sticks. These will require some mods to make them fit your needs — some camo tape for visibility and to deafen any sounds from use during transport. An additional bungee can make a big difference, too. Right out of the bag they get the job done and with a few updates, you'll have an easy hike in no time. 
Almost every hunter agrees that tree stands need better carrying straps, so here's an easy set to pick up. 
The padded straps allow extra comfort when hiking and the quality is durable for those long hikes. These are adjustable, make packing a much better experience, and work with almost every tree stand. Save yourself from the manufactured supplied transport straps and pick up some new backpack carrying straps with your purchase today. 


Hunting from a tree stand has several valuable aspects, but more often than not, hunters forget that hunting from a tree stand comes with safety risks.
This is because hunters often assume that safety equipment isn't needed for the simple ascent and descent, and falling from a tree stand accounts for the majority of hunting aspects.
So, how you can stay safe during your hunt when using a tree stand?
Best Tree Stand Equipment List
When hunting from a tree stand, you never want to forget vital equipment either at home or in the truck. This is because once you're in the tree stand, you are set until either you nab a buck or have to retreat home.
Here is our list of tree stand hunting equipment you want to have on you for every hunt. Stay comfortable, stay safe, and find success with our tree stand equipment list recommendations.
Related Info for Tree Stand Hunters
Want a bit more advice on how to nail a buck this season or make your hunt more comfortable? Check out a few of our other articles that can further assist tree stand hunters.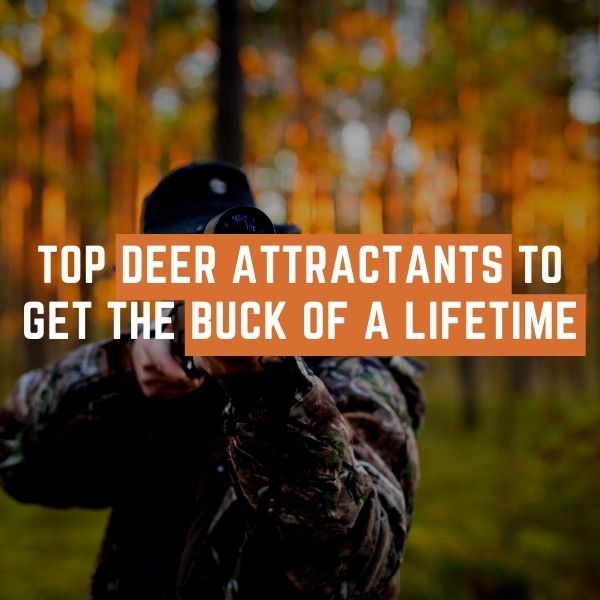 Once you've found the best tree stand and tree stand location, you want to make sure you are using the best deer attractants for the job.

This is especially handy for hunters who are in a populated area and need to hunt in secluded areas that perhaps the deer don't frequent.

Browse mineral supplements, plants, no-prep attractants, odors, and more.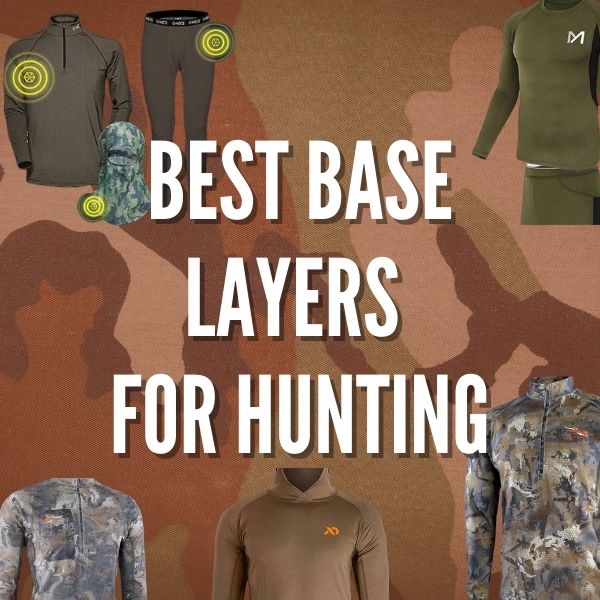 Hunting from a tree stand means being immobile for a lot of your hunt. This means your muscles, hands, and feet get cold fast.

A base layer can better protect you in cold weather hunting, meaning better comfort and a longer time sitting and waiting for the right buck to come along.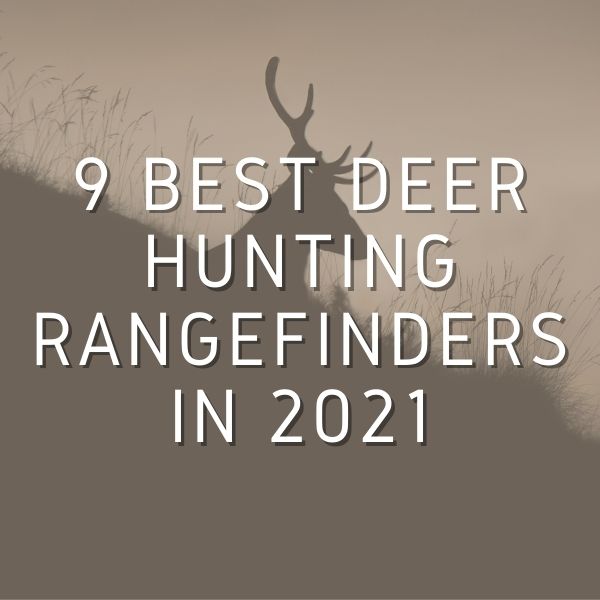 Shooting from a tree stand means anticipating bow drop and assessing range in a way you may not be used to.

Our range finder recommendations are great for hunters who post-up in tree stands because they offer settings for anticipating the drop due to a steep advantage point.