The best way to improve your hunt this season is by utilizing deer calls. Deer are typically solitary animals, and it's hard enough to get a glimpse of one without them seeing you first, let alone getting a harvest. Deer calls allow you to lure in your prey with ease.
Although mostly underrated, a deer call is one of the best pieces of hunting equipment you can have on hand when you get ready for the hunting season. A deer call imitates the sound of other deer, and these can range from doe bleats, buck grunts, rattling, to general snorts-and-sneezes. Each deer call is designed to lure in either a buck or doe so you always have a call for each season.
Deer calls range from luring in aggressive bucks to alarming does so they come running in. This is why having a deer call as part of your pack can be the biggest investment you make — eliminate the need for waiting, and bring the deer to you with natural sounds that trigger their instincts. The best part is, deer calls put other deer at ease, so they're less likely to spook once they come into range.
Ready to give it a try? These are some of the best deer calls we found in 2022-2023 to help improve your hunting season. We recommend calls that range from requiring a bit more technical skill to those that every beginner can use. We cover what type of deer they call in (ranging from bucks to does) and even how easy they are to carry and conceal. Take your pick and improve your hunting season with a wide selection of popular and proven deer calls. 
Best Deer Call Options for Hunting in 2022-2023:
Bucks
Does
Fawn
Snort-wheeze buck chamber
The Types of Deer Calls to Select From
When looking to purchase a deer call, it's important to buy the right type of deer call. While mouth calls are the most popular and well know, there are also cans, rattlers, fake antlers, and several others. Some hunters will mix and match which type of deer call they use on a hunt to make for a more effective call.
Some have the pros of being easy to use and not needing any technique while the cons may be they are likely to make noise in your bag. The important thing is to buy a deer call that works for you and your hunting style.
The three most common types of deer calls, and the ones included in our review, include mouth calls, cans, and rattlers.
When selecting the right deer call for you, it's important to select not just the right type of call but the correct deer call sound. Deer call sounds range most commonly from bleats to grunts. Mouth calls provide the most variety when trying to find the right deer call sound but cans can also give a range of deer call sounds as well.
Why is it important to select the right deer call sound? Different deer call sounds are used in different parts of the season and vary in what deer they bring to your area (buck v doe). You want to consider when you're hunting and what type of deer you're looking to attract when you think about which deer call you'd like to buy.
By far the most common type of deer call sound is the buck grunt. This is because most hunters are trying to nab a buck and a grunt call will bring them running to your location, sometimes aggressively.
Grunt calls are to be used early in the season, during the rut, once you've spotted the deer, and only sparingly. When used 15-20 minutes apart after spotting a buck they are the most effective deer calls.
Sometimes known as a deeper grunt call, the snort call is the sound the alpha deer makes in the herd. This can be a difficult sound to emulate with a mouth call but is a popular sound with experienced hunters who have honed their technique.
Not only is it a commanding sound to the bucks in the area, but it is also one of the deer call sounds that carry the furthest.
Most commonly found as a part of can calls but also included in mouth calls is the doe bleat. Bucks are drawn to the bleat of a deer because they assume it is a doe in heat. These deer call sounds are used less often than others but have their uses and can be easier to emulate and therefore easier for beginner hunters to use.
Illusion Systems' Extinguisher - 2022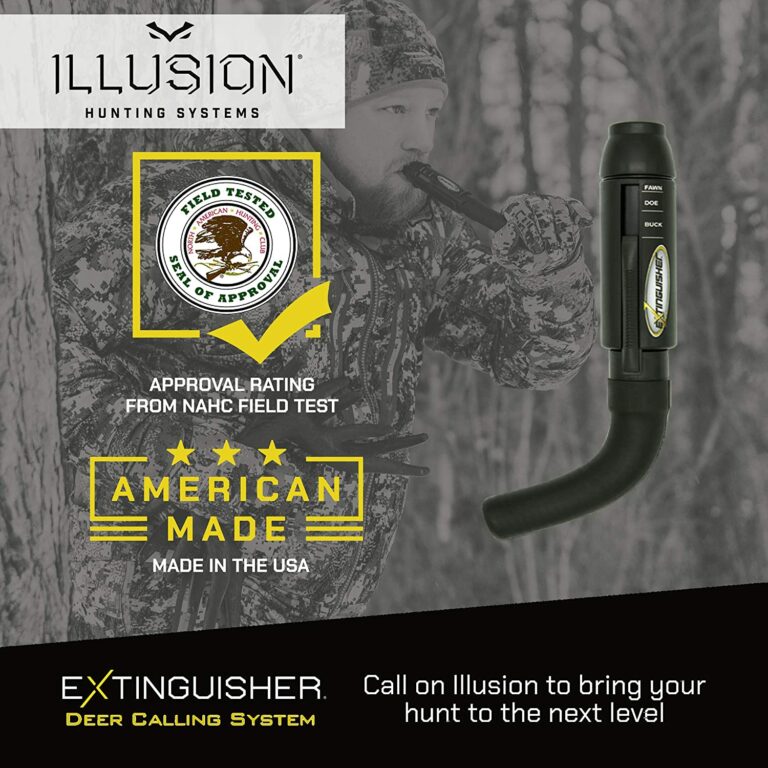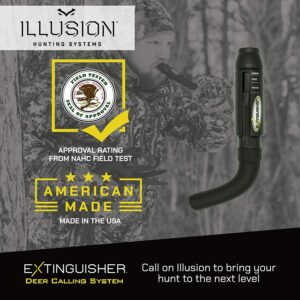 Affordable, highly rated, and extremely popular. This is the go-to deer call for novices and pros alike. It boasts over a 99% approval rating from the NAHC field test and uses authentic sounds to make for a successful hunt. Designed for easy concealment and made in the USA, it's an easy to use and adaptable deer call that will improve any hunter's game.
The Extinguisher has a freeze-free design, meaning it works even during cold weather in freezing temperatures. With a patented ModiSlide, you can switch from fawn, doe, and buck settings in an instant. The throat-tube uses dual-layered technology to produce highly realistic sounds, and you are even able to use it for directional calling.
This is a great all-in-one purchase with multiple calling sounds to select from, making it a must-have for every hunting trip. We like it because of the variety of sounds, the ability to use directional calling, and you don't have to worry about failure in extreme temperatures.
As a bonus, Illusion Systems even provides educational and instructional videos as part of your deer call purchase. If you are unable to nail the technique of this deer call on your own, their resources will help you master the Extinguisher with ease. 
Quick Switch ModiSlide Patented Design
Multiple Calling Options: Fawn, Doe, and Buck
Use in All Weather
Freeze-Resistant Design
Realistic Calls
Users rave about this product, it can't be beat. From stories about harvests in less than 10 minutes to noting that it works almost too well, professionals and novices alike love the Extinguisher deer call. No matter where you hunt or what your area is like, this will surely elevate the results you see, and in much less time. 
Follow one hunter's advice and stop sitting quietly, all day, waiting for deer to wander by by chance. Take the initiative to get their attention and bring them to you with the Extinguisher Deer Call. Yes, it really works, and it's well worth the investment.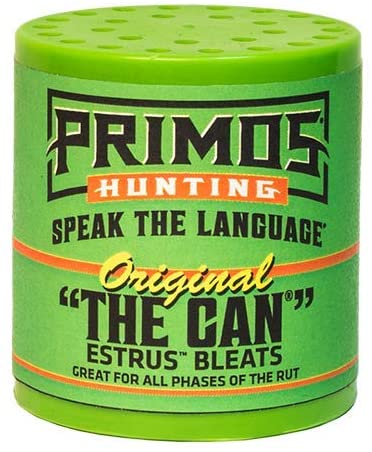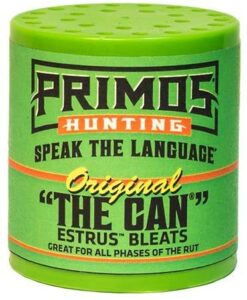 Primos offers a lot of different The Can variation deer callers, from The Lil Can to The Great Big Can. We've stuck to the classic for this recommendation because sometimes you can't beat the original (although the other The Can options are worth exploring if you have niche or specific needs, we'll let you decide).
The Can is a popular pick because it emits estrus bleats, alerting bucks that a doe is nearby and ready to breed. It's one of the top deer calls of all times, because it's simple to use, affordable, and provides great results. A raised thumb hole indicator ensures a trusted seal and a consistent sound, the best for luring bucks in and putting them at ease. 
Simple to use, great results, long-time trusted product. Go with a classic and get The Can from Primos if you want a deer call that is easy but effective. 
Simple to Use
Classic Deer Call
Various Models for Specific Needs
Estrus Bleat Effective in Every Season
Hunters love The Can. Many remark that they saw more deer after its use than in all their years of hunting without it. Some hunters note that bucks will traverse difficult terrain to get to the deer call, which is always a positive thing for a hunter to witness. If you think your area is too dense for a deer call to work, investing in The Can could be well worth it.
Although it's advised to watch an online video or two about how best to use The Can before you head out, it's easy once you get the hang of it. Hunters do say it needs to be concealed when traveling to mute the sound, so think ahead when planning out how you're going to pack for the day. Once you're in position, use The Can, and reap the rewards. 
Illusion Systems Black Rack - 2022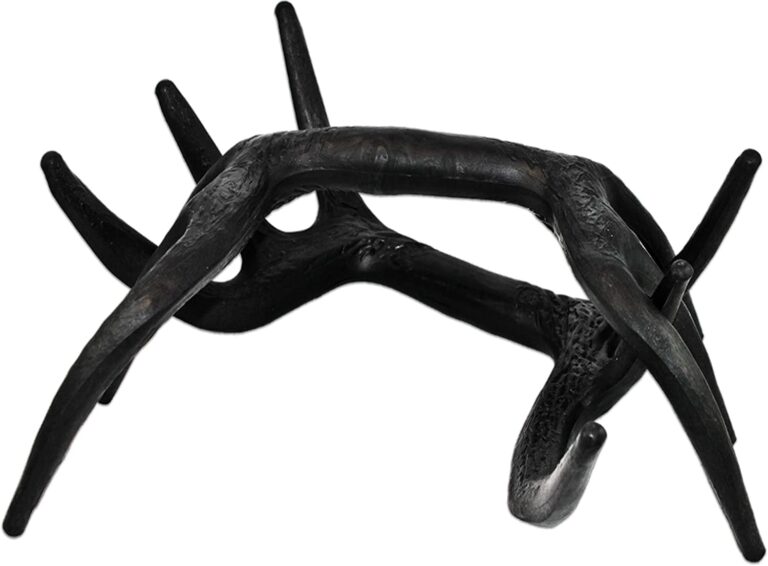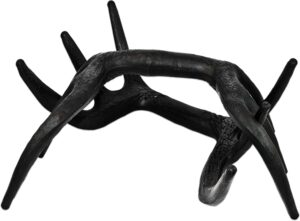 Illusion Systems is a reputable company when it comes to deer calls, and their black rack rattling deer antlers are another popular item to place your bets on.
Some hunters prefer real antlers over fake, but the Black Rack from Illusion Systems will make you think again. These provide incredible results and are sold at an affordable price point so it's well worth the purchase to see for yourself.
This deer call works by imitating the sound of two bucks' antlers interlocking and clashing, intriguing other bucks during the part of the season where they are especially aggressive. The sound will bring other bucks crashing in at speed. 
The Illusion Systems' Black Rack utilizes acoustic technology to make the sound extremely realistic and intriguing to nearby bucks. The black color design allows for easy concealment, and these are easy to transport on the back of any gear bag. Unlike some other designs, the Black Rack deer call comes with two racks, the best to imitate two bucks colliding.
Realistic Sound Encourages Fast, Focused Entry
Easy to Carry on the Back of Any Gear Bag
Two Antlers Supplied with Purchase
Easy to Conceal
Another winner, hunters love the Black Rack deer call because bucks come in aggressive and fast. This is unlike other deer calls, which sometimes can encourage a more timid or hesitant entry. When a buck comes in fast and aggressively, they are less likely to spook, so it allows for an easy harvest.
Hunters see a lot of promising results with this deer call, which is why these are highly recommended for all buck and deer hunters. Grab a pair today and see what all the fuss is about.
Primos Big Bucks Bag Call - 2022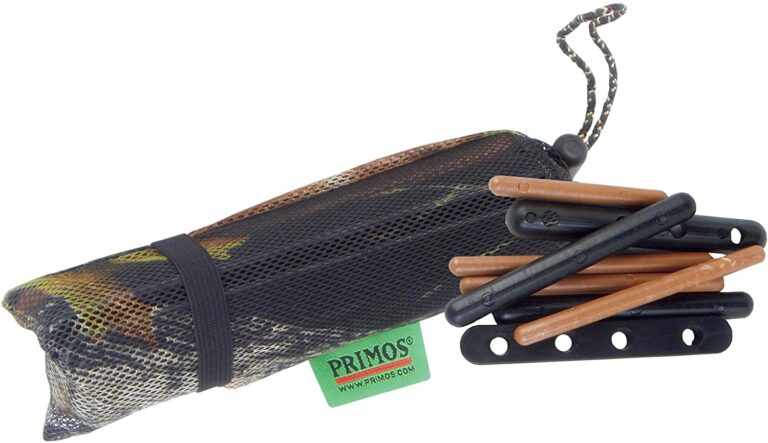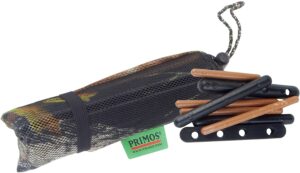 Another rattling deer call, this one from Primos, the Big Bucks Call Bag is a favorite due to its compact and easy to carry design. It's a tough deer call, durable in all scenarios, and 100% waterproof.
The Big Bucks Bag Call comes with two sets of Power Tines that create the sound of two different bucks' antlers colliding, calling in bucks with a realistic sound. New Tone Holes are incorporated as part of the design, allowing the rattling deer call to be louder and more effective. They even come with a camo bag for easy transport and concealment.
Don't be fooled by the look — the sound of antlers crashing together is very realistic despite the compact design. If you were put off by how to carry the Illusion Systems Black Rack, this is great option to choose instead.
Easy to Transport
Easy to Conceal
Realistic Sound
Hunters who opt for the Big Buck Call Bag do so because it's loud, easy to conceal, and produces positive results. The bag component allows not only easy concealment but users note it muffles the sound when they're traveling. Hike in to your hunting spot with ease knowing this deer call isn't going to make any noise until you intentionally use it.
The Big Buck Call Bag tines are made of plastic, but they produce a realistic sound that brings bucks in fast. Just like the Black Rack, bucks come in angry and aggressive, not timid and ready to spook. The best part? Easy to pack in and pack out, taking up less space in your pack. All of the results with less space, that's a win, that hunters love. 
Nationwide Scents Hunting Wooden Cherry Call - 2022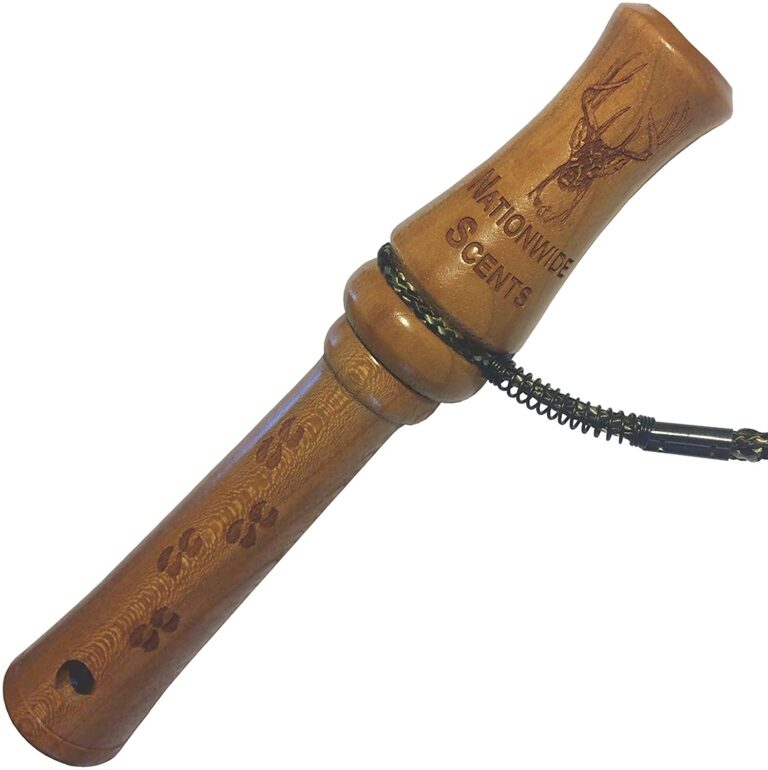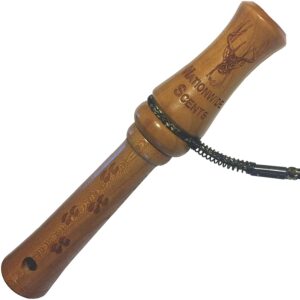 If you're looking for a low-tech, easy to use deer call, this is a popular choice among all deer hunters. An effective grunt call, it allows for both high and low calling options, including variants of doe bleats, doe in heat bleats, fawn bleats, young bucks, and breeding buck grunts. It's designed with a freeze-proof tip, allowing safe and trusted use in all weather conditions.
Made in the USA, it's been tested by the Nationwide Scents team that applies their thirty years of experience to all of their products. 
The Wooden Cherry Call is easily transported around the neck by a lanyard, and the natural hue is perfect for concealment. The extra-long tube provides volume adjustments as well as throaty, natural-sounding grunts, and is even laser engraved.
This makes our list because it's simple, available for use in all weather, takes up no space when packing your gear, and is effective. 
Simple to Use
Various Grunt Options
Volume Control
Beautiful Craftmanship and Design
Designed for Use in All Weather, Even Freezing Temps
The natural call sounds produced by the cherry wood and long tube are the most notable features users rave about with this deer call. It is very unassuming compared to other deer calls, but every hunter who has purchased or been gifted this deer call has had raving success. So, don't be fooled by the low-tech-looking design, there is much more than meets the eye.
The cherry wood design is a notable point for many hunters, as it is not only effective but truly beautiful in its craftsmanship. If you're looking for a less technologically advanced deer call on the market, you will love it for its simplicity and results. Hunters love showing this one off and its multiple deer calls make it a must-have for any season. 
Primos Hardwood Fawn Bleat Call - 2022

Another great, low-tech deer call option is the simple, yet effective, Hardwood Deer Call from Primos. Recommended for early season hunting, this deer call emulates the sound of a distressed bleat and bawl of a young deer, which brings in does at a gallop.
Manufactured by the reputable Primos brand, their hardwood deer call is perfect when you want something simple to use and simple in design to attract does to your location. It is easy to pack, simple to use, and takes no extra fiddling, adjustments, or assembly.
Unlike other deer calls, this one won't be your go-to for every season. However, if early season hunting is where you specifically need an extra boost, this is the one for you. 
The simple design means it's very easy to use and you won't be spending time online figuring out the best technique because it's intuitive right out of the box.
Simple Design
Direct Call
Perfect for Early Season Hunting
Hunters love the Primos hardwood fawn bleat call because it looks unassuming but draws does in at a run. The noise is loud and carries far, and not only do does come running in to investigate the noise, but they also stand at attention, waiting for another call. This gives hunters the perfect timing to frame their shot, and because the does are focused, they're less likely to spook.
If you're looking to improve your early season hunting, this is the deer call to make it happen with minimal effort and a lot of results. You don't need an all-in-one for every season, and sometimes the simplest designs are the most effective and the best investment. 
Flextone Headhunter Extractor - 2022

The Flextone Headhunter Extractor is another popular deer call we had to recommend. This one falls between high-tech and a more simplistic design, so you get the benefits of both. 
It is freeze-proof, allowing it to be used in any and all weather conditions, and functions with an x-glide slide system, letting you adjust the sound and tones of your deer calls.
It can imitate buck grunts (young and mature), doe grunts and bleats, and fawn bawls. A snort-wheeze chamber even allows hunters a chance to draw in dominant bucks who are within range of the call. The Flextone Headhunter Extractor utilizes a compact design, easy for packing and concealment during the hunt.
This makes our list because it's easy to use, has a simple design, the x-glide system allows you to get the deer call you need each and every time, and you even have the option of emitting a dominant buck grunt. It may not look like much, which is part of the appeal, but it offers a lot.
Variety of Calls
Compact and Simple Design
Snort-Wheeze Chamber
X-Glide System for Selecting Deer Call
Hunters love the realistic sounds this deer call makes. The additional snort-wheeze chamber to draw in dominant bucks is a favorite feature, as it allows for a wide variety of specific calls to meet every hunter's needs. Not too many deer calls offer this specific sound, so adding that to the list of all the other deer calls this design provides, makes it a winner.
The best thing about this deer call is that it is very simple to use and easy to understand. It has minimal tech parts and utilizes a slide system to vary the deer calls, making it intuitive to pick up.
If you haven't used deer calls in the past because it was too difficult nailing the technique, this is going to be the best pick for you. With a minimal learning curve and easy to pack design, why wouldn't you try it out? 
Flextone All-In-One Deer Call - 2022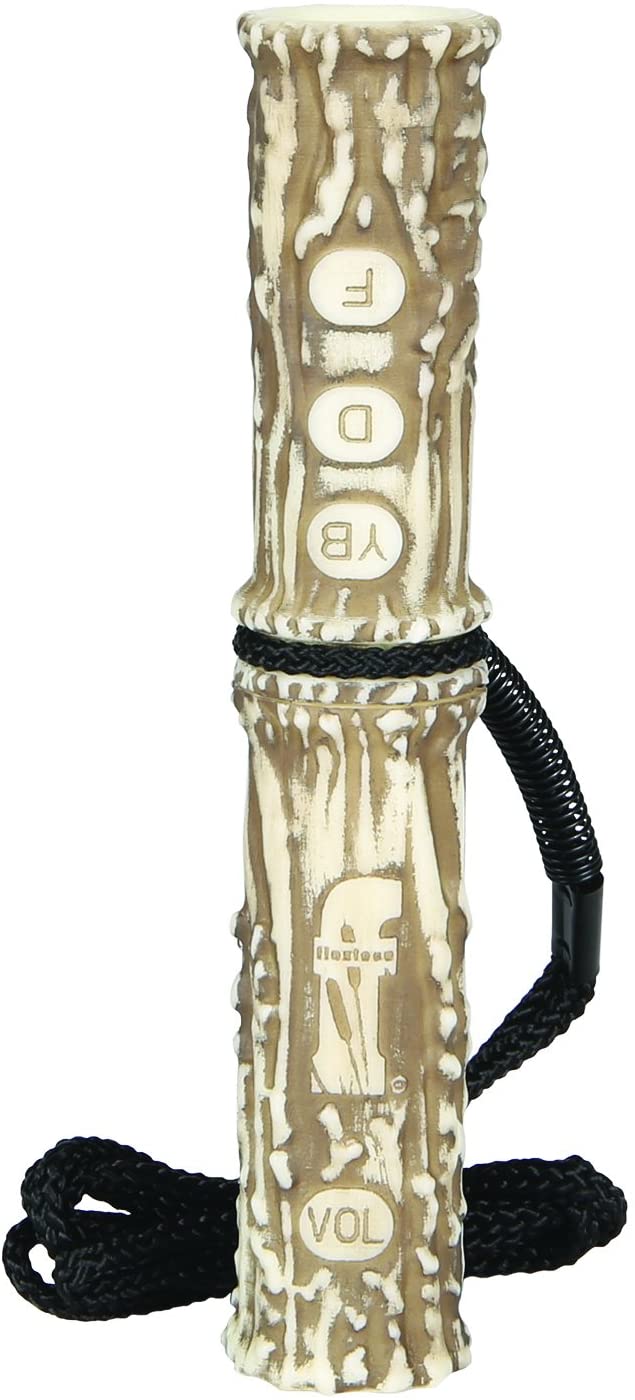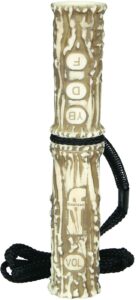 Need a deer call that is affordable and simple, and none of the others caught your eye? The Flextone All-In-One deer call is the popular model to consider. Compact for easy packing and use, it emits nasal tones and buck grunts to draw in the deer within range. This deer call works by squeezing the flexible body to adjust the volume of your deer call, so it's very low-tech and easy to use.
If you're a novice or teaching your children how to hunt, this is a good deer call to learn on and experiment with without investing too much. It's one of the most affordable deer calls that still emits realistic deer calls and pull bucks and does in who are within range. 
Good Value
Compact
Easy to Use
The Flextone All-in-One deer call is a great purchase for novice hunters or seasoned pros teaching the young members of their family. It provides consistent results when used properly but some users note differing tones that don't sound as realistic as other deer calls on the market. While it is easy to use, there may be some mishaps and a small learning curve to get the exact sound you're looking for.
However, hunters note this deer call is effective at drawing deer in who are within range and it piques their curiosity enough that you can complete the harvest. When just starting out or wanting to experiment with deer calls in general, this is a safe bet to try out that won't require a large investment and can provide basic results.
True Talker OG Grunt Call - 2022


Seasoned hunters refer to this as the old school, original deer call. Not as popular as other classics, this still is an effective tool that hunters trust every season. If you prefer simple designs that have long been trusted, this is a good pick.
Boasting an improved reed design, the True Talker OG Grunt Call emits an aggressive buck "growl" to draw in bucks that are in the area. It relies on exact finger and hand positioning with a focus on fingertip control, but when properly positioned, it emits a very realistic deer call that does not go unnoticed by bucks in the area.
This is a good option if you prefer deer calls that focus on bucks and growls, but there will be a learning curve to get it right. However, many hunters take pride in nailing this skill and it could be a great addition to your gear with the right practice.
Classic, Simple Design
Realistic Buck Call
Hunters prefer this grunt call when they want something with a classic design to it. There is a slight learning curve to nailing the hand placement to get the tone, volume, and sound right, but this also allows for variations in the deer calls once you figure out the design.
Although not intuitive to use out of the box, hunters love this deer call once they figure it out because of the variety of call variations it provides. If you're willing to put in the work, it's a great buy.
Hunters consistently see results with the True Talker Grunt Call, which is why it remains a staple in many hunter's packs each season. 
Woodhaven The Intimidator - 2022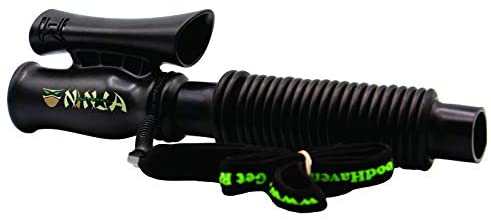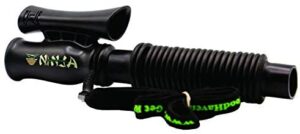 The Intimidator from Woodhaven is another model that isn't largely popular — yet. This deer call provides a variety of grunts and you are able to control the volume from a whisper to an extremely loud bellow. With an additional Inflexor Tube you have greater control over the sound dynamics, allowing you to adjust it as needed. This is why it makes our list as a deer call to keep an eye on.
There is also a snort wheeze you can imitate when bucks are nearby and you want to draw them closer. It is very simple and has an easy-to-understand design, another great win for novices or those experimenting with a deer call for the first time. If you're been intimidated by other deer calls, this could be a good fit.
Inflexor Tube, for Volume Control
Snort Wheeze Additional Calling Feature
Easy to Use
This is popular with hunters because it is easy to use and calls the deer in quickly. Hunters remark using it as they went out for the hunt and having deer instantly come in. It appears to have a fast turnaround time, probably due to its intuitive design.
With a variety of calls and a simple to understand design, you have nothing to lose by investing in this deer call to improve your hunting season this year.
What to Consider When Buying Your Deer Call
We've covered a lot of deer calls in our comprehensive deer call review guide. Hopefully, you have found a wide variety of mouth calls, cans, and rattlers to choose from for hunting season. Even with all of the pros and cons, however, we know it can be hard to narrow down which deer call will last you the longest and provide you the most use.
If you are looking for some other considerations, here are the details we think are the most important when selecting your deer call.
We know we covered a lot of material in our comprehensive deer call review guide! The most important thing to take away is that you want to find the best deer call for you and your hunt.
Some hunters swear by rattle callers while others only use mouth calls. Starting off simple and advancing your calls as you become more experienced is a great strategy and we'll be sure to keep our guide updated to help you as you expand.
Want more hunting info? Check out our best deer attractants recommendations and rangefinder tips. With the right gear, you'll get more out of your hunt!