Gearing up for your first hunt is an incredible experience. There's nothing like the anticipation, excitement, and energy to carry you through the day with adrenaline. It all begins when you get your gear ready the night before and then head out before sunrise the next morning.
Knowing just how to prepare for your first hunt, however, can be an experience all on its own. Finding hunting gear for new hunters can be a challenge, with dozens of options in each category and a range of features and tech you had never considered.
Even if you've grown up with a family of hunters or find the right community to help you kick things off, browsing online for products or drifting through in-store aisles of hunting gear for new hunters can be overwhelming. Yes, you know you need the right jacket, boots, bow, weatherproof gear, and more, but how do you select the right one? Does it really matter if you pick this brand over that brand? What's the difference in price indicate on two items that look exactly the same? Is more expensive really better?
Navigating price differences, brands, subtle adjustments, and more is a lot to process as a new hunter, no matter how ready you feel to begin your first hunt. Instead of ordering, buying, and figuring it out as you go, listen to the pros who have come before you. We've compiled our favorite hunting items for new hunters that belong on your must-have list. With specific brand recommendations and complete breakdowns of each item, you'll feel confident heading out into the woods for your first hunt. 
 Download our hunting gear for new hunters checklist so you always have the right items on hand for a little extra reminder!
Apparel and Clothing for New Hunters
What you wear on your first hunting trip can be the difference between an enjoyable day or a miserable one. Without the proper camouflage, insulation, and material you risk being spotted by your prey or having to quit early due to the elements. The clothes you wear for your normal day-to-day won't cut it and not just any camouflage pattern will be the right one for your terrain.
When pulling together your first hunting outfit, think about layers, insulation, weather protection, visibility, and durability.
| | | | |
| --- | --- | --- | --- |
| | | | |
| | | | |
| | | RedHead Silent Stalker Elite Parka | |
| | | RedHead Silent-Hide Flex Fit | |
| | | RedHead Spandex Camo Balaclava | |
| | | Cabela's Space Rain Full-Zip Jacket | |
| | | Cabela's GORE-TEX INFINIUM WINDSTOPPER | |
| | | Cabela's GORE-TEX INFINIUM WINDSTOPPER | |
Base Layers: Redhead Thermal Fleece Long-Sleeved Shirt and Pants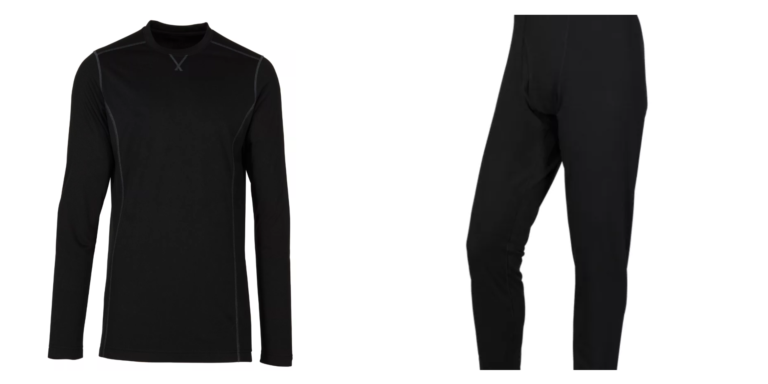 Why We Like It for New Hunters
Never forget your thermals! While outer layers help mask your scent, conceal your presence, and protect you from the elements, thermals are your first protection against the cold and maintaining proper body heat on long hunts.
The thermal fleece line from Redhead is our most recommended for your base layer before heading out for the hunt. It's lightweight, breathable, and low-bulk, so you get all of the comfort and protection in one layer versus adding more and more to your hunting outfit. It wicks away moisture and sweat, keeping you dry, even on those long days, with soft fleece to enhance comfort and warmth.
The fit features a crew neck, tapered openings on the cuffs and waist, reinforced stitching, and a snug waistband — comfortable and durable hunting gear for new hunters.
Soft, warm fleece interior
Polyester exterior
Moisture-wicking
Comfortable fit with tapered wrist and leg cuffs
Lightweight
Breathable
Low-bulk design and fit
Comfortable, lightweight, and easy to layer without feeling restricted or heavy. These are the go-to for many hunters, year after year. Some hunters use them as their base layer, while others order a size up and add a few additional thermals underneath for the toughest days.
However you choose to wear it, the warmth and comfort can't be beat, and will make any hunting expedition way more comfortable.
Jacket: RedHead Silent Stalker Elite Parka
Why We Like It for New Hunters
Our top pick for a hunting jacket for new hunters is the Silent Stalker Elite Parka from RedHead. It is equipped to help you handle the coldest or most unpredictable weather in any terrain. It comes in visible blaze and three forms of camo to help you adapt to any location.
100% polyester, it utilizes Thermolite® Micro Insulation in the body and sleeves and features BONE-DRY® protection against wind and moisture — this means warmth, comfort, and no seeking shelter from the rain or snow. It boasts a removable hood, two cargo pockets with snap-down flaps, a zip pocket at the chest, two handwarmer pockets featuring fleece lining, a full zip front, and a cinch waist. The liner is removable, also featuring handwarmer pockets, quilted interior, full zip, and cinch waist.
Some hunters opt to use the liner on its own during warmer days, allowing versatility for many environments with just one purchase. Plus, all those pockets means having the gear you need at a moment's notice right at your finger tips.
100% Polyester
Thermolite® Micro Insulation
BONE-DRY® Weather and Wind Protection
Removable Liner
Zip Handwarmer Pockets
3 Different Camo Patterns
Flexible for Varying Conditions and Seasons
New Hunters and experienced hunters alike choose this parka because it adapts to the weather, no matter what they're up against. It's well insulating for freezing temperatures and below, but with the removable liner, can be the perfect fit for the 50s and above. Both layers allow hunters to get the right comfort level they need every time, making it a worthy investment adaptable for every season.
Users note it works perfectly against the wind and sustains them no matter how bad the snow or rain gets. The pockets are easily accessible when posted up in a tree stand or a similar waiting area, and it's quiet enough to not spook any nearby deer in the area. It fits without bulk, great for easy traveling across the terrain and feeling comfortable all day long.
Overall? This can be the one hunting jacket you buy to get you through every hunting season, no problem. 
Pants: RedHead Silent-Hide Flex Fit
Why We Like It for New Hunters
The Silent-Hide pants line from RedHead can not be beat when you're in need of the perfect hunting pants as a new hunter. These boast a quiet performance, breathability, and durability for every hunt you're on. They are the highest rated by hunters across the Bass Pro Shops and Cabella's communities, outlasting every other pair of hunting pants available for men.
The Silent-Hide Flex Fit Pants have silent snap cargo pockets, a Flex Fit stretch for ultimate comfort, extra wide belt loops, double-reinforced articulated knees to allow for more natural movements, a Comfort Gripper waistband so your shirt layers never come untucked, ergonomic pockets for easier gear access, and kick plates.
What does all of that mean? Total comfort, good fit, and high durability. No matter if you're hiking, crawling, or chasing down a buck, these won't fail you. 
Quiet Fabric
Silent Snap Pockets
Durable Design, Construction, and Fabric
Double Reinforced Articulated Knees
Comfort Gripper Waistband
Kick Plate
Durable, long-lasting, no smell! The pants hold up to the test of hunters, who enjoy the fit, durability, and minimal smell that washes away easily after a few rounds in the washing machine.
The camo options blend in easily in various environments and the pockets are perfectly placed for any and all additional gear you need on-hand. Plus, the comfort and fit can't be beat — no issues on long hunts for any hunter.
Over and over, hunters talk about investing in one of these due to the durability and comfort fit, and then immediately buying another so they have a back-up on laundry day.
If you want to ensure your first hunt is comfortable, insulated, and ready for the hike, these are the hunting pants to go with as a new hunter, no doubt about it. You'll have a pair to last you your first hunt and many more to come.
Hunting Mask: RedHead Spandex Camo Balaclava
Why We Like It for New Hunters
A hunting face mask isn't a must-have on your first hunting trip gear list, but if you're gearing up for an especially cold hunt or you're worried about concealment, this is the right option to add to your pack. A hunting facemask like the Spandex Camo Balaclava from RedHead will ensure you stay hidden, you stay warm, and you can ride out the hunt without discomfort.
This particular option comes in various camo prints, letting you get the right fit for your environment. SilverClear® Scent Control Technology helps mask your smell from catching on the wind and alerting nearby deer and is meant to last up to 100 washes. Moisture-wicking with fast-drying power fabric keeps you dry and focused on the hunt at hand. The right fit keeps you alert and your vision intact.
Conceal your scent, stay warm, and don't compromise visibility with this hunting mask. It really is a win-win. 
SilverClear® Scent Control Technology
Moisture Wicking
Unobstructed View
Reduces Natural Scents and Odors for up to 100 Washes
Double-Sided Camo
Temperature Control Fit and Design
Long 
Stretchy Fabric
Hunters agree: for a natural fit and great concealment, no other mask gets the job done. Year after year, pro hunters pack this mask to offer concealment and protection from the elements, making it the perfect face mask for new hunters.
With a long and stretchy design, users note that it's easy to tuck into various layers for the best fit and it provides them supreme temperature control. Best of all? It's recommended for early season hunting archery, so when you're heading out early in the season, this is a must-buy. 
It may not seem like much, but listen when hunters tell you that a temperature control facemask can be a huge game-changer when you're stuck sitting in a tree stand all day, weathering the elements. Take advantage of this hunting gear for new hunters.
Rain Gear: Cabela's Space Rain Full-Zip Jacket
Why We Like It for New Hunters
The Cabela's Space Rain™ Full-Zip Jacket with 4MOST® DRY-PLUS® is the go-to rain gear when out on a hunt. Compact for easy portability in a cargo pocket, field bag, glove box, or tool kit, it is accessible and on hand whenever you need it, no matter how fast the weather changes. This means you can pack it, forget it, but always have it when you need it. 
This weatherproof hunting jacket is breathable, letting sweat escape while blocking out rain and storms with ease. Various drawcords protect your waist, wrists, arms, and neck while still allowing for complete visibility and maximum movement, courtesy of 4-way stretch fabric. 100% polyester, it also has zip hand pockets for essential gear storage. Nothing beats the Cabela's Space Rain™ Full-Zip Jacket for all your hunting needs when you're out in unpredictable weather. 
4MOST® DRY-PLUS®
Compact and portable
100% Weatherproof
100% Breathable
Drawstring hem at waist
Adjustable wrist cuffs
3-Piece hood with drawstring
Zippered hand pockets
Hunters love how compact and lightweight this weatherproof hunting jacket is. It takes up minimal space in a pack, making it a must-have for any trip, especially when the weather is unpredictable and you're far from any resources or coverage.
Even on multi-day trips in the snow or rain, this jacket holds up, blending in perfectly with the surroundings while keeping you warm and dry. For the best fit, go a size or two up to accommodate for layers and you'll never have to sweat about a change in the weather, wherever you're hunting.
Handmuff: Cabela's GORE-TEX INFINIUM WINDSTOPPER
Why We Like It for New Hunters
Keeping your hands warm and dexterous when out on the hunt is crucial for a successful harvest, safety, and comfort. The Cabela's GORE-TEX® INFINIUM™ WINDSTOPPER® Handmuff is highly popular among hunters when out in the cold weather, and for good reason.
This handmuff is 100% windproof, water-resistant, and blocks frigid gusts of wind that would otherwise chill you to the bone using GORE-TEX INFINIUM WINDSTOPPER fabric and elastic cuff seals. It's made with a quiet-design so it won't rustle and give away your presence to any lurking prey. The quick-release buckle secures the hunting handmuff in place and is easily removable when you need a quick release.
Quiet design
GORE-TEX INFINIUM WINDSTOPPER fabric
Water-resistant
Elastic cuffs
Quick-release buckle
Stops wind
Roomy with extra space for gloves, tools, and your phone
Comfortable, warm, good fit — what more could you ask for? Pro hunters and novices alike rave about this handmuff because it has the right fit, even over multiple layers, and keeps hands warm in freezing weather when waiting out a deer in the treestand all day.
Some users note wishing for a bit larger of size, but many others wear light gloves and tuck their hands inside with plenty of room, some even adding in their phone, a hunting knife, or other extras. Compared to other handmuffs on the market this one is all you need — no extra hand-warmers necessary, although you're always more than welcome to add to it for extra heat.
Get rid of bulky gloves and focus on a comfortable fit that provides all the warmth you need.
Glomitts: Cabela's GORE-TEX INFINIUM WINDSTOPPER
Why We Like It for New Hunters
The handmuffs have won over many hunters who were strictly glove-focused before finding it, but if gloves are your preferred way to go then you need the GORE-TEX INFINIUM WINDSTOPPER Glomitts from Cabela's.
These Glomitts combine the warmth of mittens and the dexterity of gloves into one comfortable and useful fit. They boast a half-finger construction complete with a foldover hood to expose fingertips and thumb when you need control the most. When closed, you get the benefits of full-mitten warmth, including 160-gram 3M™ Thinsulate™ Insulation on the palms and 320-gram on the back of the hands.
The Glomitts are made with a polyester shell and a premium leather palm and thumb overlay for added grip. They are windproof, water-resistant, and block high winds and surface moisture. For added security and temperature control, there is wrist-webbing with a tension lock to get the perfect comfort fit, and the cord-lock seals in the heat. Best of all, the lining allows for a quick on-and-off when getting ready for your harvest.
Polyester exterior
Brushed-tricot lining
Windproof
Water-resistant
Zoned Thinsulate Insulation: 160-gram on palms, 320-gram on back of hands
Half-finger construction
Fold-over mitten design for maximum warmth
Leather palms and thumbs for grip
Easy on-and-off
When it comes to getting to your weapon in time for harvest, hunters rave about these Glomitts. The foldover mitten addition secures in the heat for uncompromised finger dexterity, while the foldover opens quickly when in need.
Pros love using them in the cold weather year after year because they can handle their weapon without complete removal of the gloves, giving them the best of both worlds — total comfort and easy finger mobility. There's really no compromise when you need warmth all day long but mobility at a moment's notice. 
Rough terrain needs durable footwear. Proper hiking and hunting boots will be the difference between handling the long trek out to the treestand and tracking prey successfully, to having to call it quits early because you're cold to the bone and soaked through. 
A good pair of hunting boots will last you years, and don't forget the proper boot socks to go with it. What seems like a small decision can change your entire hunting day, so as a new hunter, really invest in your hunting boots.
Boots: Cabela's Iron Ridge 800 GORE-TEX Insulated Hunting Boots
Why We Like It for New Hunters
Stay warm, stay dry, stay protected with the right pair of hunting boots. The Iron Ridge Insulated Hunting Boots from Cabela's are our top pick when you need to find the right pair of hunting boots to kick off your hunting season and last you years on the trails.
Full-grain leather that is richly oiled and waterproof protects you from all of the elements, no matter if you're trudging through a storm or weathering the aftermath of puddles and mud. The moisture-wicking lining is waterproof and breathable, too, and paired with a GORE-TEX interior membrane you won't be stuck with soggy, sweaty feet just a few hours into your trip. These are meant to last against the heaviest of rains and snow, ensuring a dry fit all year around in even the harshest conditions.
Thinsulate™ Ultra Insulation adds additional warmth to these hunting boots without contributing excessive bulk or weight that may otherwise slow you down. Plus, removable PU footbeds give you the cushion you need on long treks. To counteract the interior comfort and provide reinforced exterior stability, there are Iron Ridge steel shanks to handle any uneven surfaces.
Our favorite part about this boot is that it is long-lasting due to Rugged Goodyear® Welt construction. Instead of having to look for new boots year after the year, this design is extremely durable and can be resoled later on.
Don't get deterred by rough terrain — the right hunting boots matter, whether you're just trying to find a place to set up or you're tracking a deer through the wilderness. Nothing stops you, in any terrain, with the Iron Ridge hunting boots. 
Full-grain, richly oiled leather
Waterproof
Supportive and protective 10-inch design
GORE-TEX membranes
Breathable
Moisture-wicking interior
800 gram 3M Thinsulate Ultra Insulation
Lightweight
Removable PU insoles
Steel shanks
Goodyear Welt construction
Durable and long lasting
Stable design
Every outdoorsman raves about these boots, and there's no other comparison to them for those long, freezing hunts. Well constructed and proven to be durable, hunters continue to purchase these when their old ones take too much of a beating, because they're long lasting and reliable. The quality construction allows them to last a long time, while still insulating in even the coldest weather. 
Hunters and even fishermen account for dips into freezing cold water and having their feet remain dry and the exterior can handle even the slippiest of terrains, so unexpected ice patches won't take you down.
To keep these hunting boots lasting as long as possible, invest in good leather oil and don't forget to resole when needed. With proper care, even with consistent use, hunters note holding on to their boots for over a decade without any issues.
Socks: Cabela's Deluxe Cold-Weather Wool Boot Socks
Why We Like It for New Hunters
Waterproof hunting boots are one thing, but in order to keep your feet entirely protected, cold-weather socks are another addition you're going to want to have on hand. Just imagine your coldest day, and now make it worse and add in the morning chill with unexpected weather patterns and environments — that's something you'll face during early hunting season. If there is any corner you're thinking of cutting, footwear and socks are not it.
Cabela's Deluxe Cold-Weather Wool Boot Socks are a 55% Merino wool/24% acrylic/12% Thermolite™/8% stretch nylon/1% Spandex™ blend. This unique mixture allows them to be naturally moisture-wicking, regulate temperature, and protect against bad odors. With a focus on thick, heavyweight construction, a dense yarn-loop interior provides additional cushioning for long treks in the worst terrain. Their height will ensure comfort against tall hunting boots and will continue to insulate when out on the trek. 
Unique blend: 55% Merino wool/24% acrylic/12% Thermolite/8% stretch nylon/1% Spandex
Soft Merion wool
Heavy-duty construction
Thick interior of dense yarn-loop
Made for tall boots at 16" height
Odor resistant
Moisture-wicking
Warm and insulating 
Perfect for those long winter hunter hunts in tough boots, these socks hold up against the cold no matter how long you're outdoors. It may not seem like much, but hunters consistently mention how these kept their toes warm and the heat trapped when they were out for long days. 
If you're planning on being immobile in a treestand for long hours, you want the right socks to protect your dexterity and comfort.
Best Backpacks for Hunting Beginners
Heading out for a hunt involves a lot of gear, even for a day or morning trip. Nothing is worse than getting all set up, only to realize you forgot a crucial product or you left it behind because you didn't want to weigh your pockets down anymore. As a new hunter, a comfortable backpack will be key to always having everything you need on hand.
These hunting backpacks give you a variety of fits and styles to choose from, so whether it's a day trip or a whole weekend hunt, you won't have to leave any piece of gear behind. Plus, additional features including attachment areas for your weapon and even straps to haul your big game back with ease. It's more than a backpack, it's a better-prepared hunt. Here are the best backpacks we recommend for new hunters.
Best Quality for the Price: Cabela's Bow and Rifle Pack
Why We Like It for New Hunters
Long hunting treks to and from the tree stand, or even through the rough terrain, can be an uncomfortable hike if you've got your arms full with your weapon and your pockets weighed down with essential gear. This is why a hunting backpack is a must-have item on any new hunter's gear list. It may not seem like it, but trying to carry even a minimal amount of gear, especially after landing your first harvest, isn't so easy.
The Bow and Rifle Pack from Cabela's is our top backpack for new hunters because it entirely frees up your hands by having a bow and rifle attachment, making it versatile for both early season hunting and later in the year, in addition to having plenty of storage for all your other hunting essentials.
The Bow and Rifle Pack features a foam structure in the center that creates a steady platform to allow for stable shooting. A back-panel gives easy access while channeled padding lets you carry heavy loads with comfort. Use the hip belt as an additional comfort feature that doubles as an attachment point for your sidearm's holster. There's even the chance to add on a hydration reservoir if you choose to make the additional purchase. Rain cover and blaze flag are both included.
Polyester and 600-denier polyester-oxford construction
4 lbs., 10 oz.
Capacity: 2,500 cu. in.
Dimensions: 21″ x 1″ x 7″
Firearm and bow attachment point
Easy access via back panel
Channeled padding
Optional holster attachment point on hip belt
Rain cover
Blaze flag
Optional hydration reservoir for additional purchase
Hunters LOVE this Bow and Rifle Pack because it has everything they need with a superior design. Honestly — it's really hard to top it.
The pockets are plentiful for organization purposes but also really easy to access, so you're never left floundering, wondering where you stored something or where the pocket is. Even when loaded with fifty pounds and a crossbow or rifle attached the balance is comfortable for long hikes.
Smaller compartments on the pack can be removed, making it a good option for short trips or you can load it up for longer hunts. Hunters are often dubious when looking it over, but after scoring their first harvest, they are very pleased with how it all packs together and can even pull out an elk without sacrificing space for anything else.
Be prepared for any hunting trip with the Cabela's Bow and Rifle Pack, it'll be sure to handle all of your needs.
Extended HuntingTrip: Cabela's Multi-Day Hunting Pack
Why We Like It for New Hunters
If you know multi-day hunting trips are in your future, springing for a pack that is more equipped to handle the trek is a must. The Multi-Day Hunting Pack from Cabela's is a top-rated product by a lot of hunters and it could be just the thing you need to start your hunting journey off right.
The Multi-Day Hunting Pack is designed to handle both day trips and longer journeys, depending on how you optimize the storage and the expandable main compartment. With the option for both, it can be your one reliable hunting pack for several years, so you can utilize it for your frequent local day trips and occasional weekend events. 
Like the Rifle and Bow Pack, the Multi-Day Hunting Pack features external attachment straps for your rifle or bow, allowing you to go hands-free. Once you land your harvest, we like this pack because it provides an expandable meat compartment that safely stores your meat. Locking buckles and compression straps give you the chance to attach your game meat for convenient transport and less struggle.
As far as comfort goes, it features an adjustable torso inside of the back paneling, so you can make it fit your exact body shape so you barely notice it on long hikes. There's a hip belt with padding for additional comfort, and it can also attach a holster for your sidearm if needed. The rain cover and blaze flag is included, and don't forget to buy a reservoir for the hydration option.
Weight: 7 lbs. 15 oz.
Capacity: 2,500 cu. in., expandable to 4,000 cu. in.
24″Hx11.5″Wx6″D, expandable to 9″D
Expandable meat compartment
Rifle and bow attachments
Attachment points to secure game meat
Adjustable torso fit
Hip belt
Hunters love this pack for hauling out game and storing meat, as it does not disappoint. All of the comfort design applications are well received, allowing experienced and new hunters to haul their game without issue and take long treks with minimal discomfort. It's not meant for someone with a 30" waist, and some hunters note needing to adjust the lid every so slightly for a secure fit, but after that, it's smooth sailing.
Long treks up mountains, over 50 pounds of gear on board, and more are all made easy with the Cabela's Multi-Day Hunting Pack. If you've got long trips planned ahead, take a tip from the pros who trust this pack and secure your gear right.
Knives Every New Hunter Should Have
Knives are critical when you're on a hunt. The right pocket knife can help you out of emergency situations, help you handle small issues with ease, and can make being outdoors a lot easier. As a new hunter, having a hunting knife could make a big difference in your harvest and your safety.
Plus, once you land your first big game, you're going to need the right tools for skinning and gutting the harvest properly. These knives are perfect for in-pocket or on-the-belt carry and can handle any job you have with a firm, safe grip, and a reliable blade. Plus, hunting knives last years, so as a new hunter, this will be a lasting investment.
| | | | |
| --- | --- | --- | --- |
| | | | |
| | KA-BAR USMC Fixed-Blade Knife with Serrated Edge | Fixed-Blade Pocket Utility | |
| | Cabela's Alaskan Guide Series 110 Folding Hunter Lockback Folding Knife by Buck Knives | | |
| | Outdoor Edge SwingBlaze SwingBlade Drop Point Skinner/Big Game Gutting Knife | Skinning and Gutting Hunting Knife | |
Fixed-Blade Pocket Utility Hunting Knife for New Hunters:
KA-BAR USMC Fixed-Blade Knife with Serrated Edge
Why We Like It for New Hunters
The right knife is extremely important to have while out on a hunt — it's not only important for skinning and gutting any game, but can be your lifeline in case of an emergency situation. This is why you not only need a skinning and gutting knife but a reliable pocket utility knife as a new hunter, as well. The KA-BAR USMC Fixed-Blade is a reliable knife for any hunter, in any scenario, and is a worthy investment a beginner hunter should make.
The serrated blade is made from 1095 carbon Cro-Van steel, featuring a clip-point as well. The black blade finish protects against corrosion, allowing your blade to last longer… Much longer (just check out what the reviews say, and you'll be hooked).
This model also has a leather-asher grip, steel handguard, and steel pommel. These features provide a more secure grip during use, making it safer for overall use and allowing for precision control. To keep it safe it comes with a leather sheath and has a snap retention strap for a secure hold on a belt or in a pocket. 
Long-lasting
Versatile
Serrated and plan combo edges
1095 Cro-Van blade steel
Clip point
Leather-washer grip
Steel handguard
Leather sheath
What can we say, nothing beats a KA-BAR knife, and the hunters' reviews confirm it. Over and over, hunters remark how their KA-BAR USMC Fixed-Blade has lasted them decades, through continued hunting, hiking, and outdoor activities. With proper care, buying a KA-BAR knife could mean buying the last knife you'd ever need (though you'll almost always want more).
Users remark how they've used this hunting knife for fall recoveries, gutting game, working through bone with the heel, sawing down tree branches, and more. One of the best parts is that you won't lose grip when in the thick of it — the design is optimized for a sturdy, stable grip. 
If you only select one knife for your hunting journey, this is the one to trust.
Folding Pocket Utility Hunting Knife for Beginner Hunters:
Cabela's Alaskan Guide Series 110 Folding Hunter Lockback Folding Knife by Buck Knives
Why We Like It for New Hunters
If you prefer a folding knife over a fixed-blade, we can't recommend anything other than a Buck Knives® 110 for your pocket/utility hunting knife. The 110 is beloved by many long-time hunters and is a reliable knife you can count on for any outdoor trip for decades to come. New hunters will be able to hold on to this pocket knife for years with the proper care.
The Cabela's Alaskan Guide® Series 110 has a hollow-ground, clip-point blade design, which is why it's recommended for any and all hunters. The S30V steel blade has been proven to hold a sharp edge better than most other stainless steels on the market, meaning less upkeep and more function. An additional Cerakote® blade coating gives this knife corrosion resistance.
The folding blade locks with a Buck Lockback design, extremely secure for trusted safety and precision. It comes with a leather sheath to give you an accessible belt carry for easy access. 
Folded length: 4-7/8″
Weight: 7.2 oz.
S30V stainless steel blade
Protective Cerakote coating against corrosion
Buck Knives' Lockback mechanism
Whatever game you're hunting, this knife from the Buck 110 series can handle it. Hunters agree that every new hunter should own a 110 knife, because it's reliable, durable, and can handle whatever you're up against when out in the field.
Moose, elk, deer, and more — none of it is a challenge for this knife. Hunters have even used it to retrieve broadheads stuck into thick trees. The securing mechanism for the folding-blade is one hunters literally trust their hands to, not only for precision but for safety. With proper care, this knife can last a lifetime, going on every hunting trip year after year, which is why we like it for new hunters. It's got a good balance, comfortable fit in-hand, and is a lightweight carry.
Skinning and Gutting Hunting Knife:
Outdoor Edge SwingBlaze SwingBlade Drop Point Skinner/Big Game Gutting Knife
Why We Like It for New Hunters
In addition to your standard pocket and utility knife, even if it does it all, it's important to have on hand a knife designated for skinning and gutting your game. The Outdoor Edge SwingBlaze SwingBlade is the right pick to get both jobs done with one reliable tool.
This knife changes from a drop-point skinner to a big game gutting knife with a push of a button. It's designed to skin and gut easily, without the need for exhaustive force. A Rubberized Kraton® handle ensures a non-slip grip, even when wet, so you're always stable, secure, and safe. Included with it is a nylon belt sheath, and the blade its self is made of Aichi AUS-9 stainless steel.
Aichi AUS-9 stainless steel bleed
Nylon belt sheath
Skinning blade: 3.6"
Gutting blade: 3.2"
Overall length: 8.3"
Rubberized Kraton handle for a non-slip grip
Changes blades with the press of a button
Out in the field, this knife can't be beat. It's lightweight, making it a breeze to carry, and features the bright orange handle to ensure safe and visible field use. It takes on big game, like elk and moose, with a breeze, making it a must-have for hunters during any season. Hunters love the precise blade most of all with the secure lock, providing them clean cuts that they know they can trust.
Hunters also note the extreme durability, citing about half a dozen game uses before it needs a touch-up. With proper care and a focus on hunting use over general utility usage, it can last years before you'll have to opt for a replacement. The worst con users note? Every other hunter you know will want one, so it's best to mark yours with your initials before you head back out.
Visual Aids for Novice Hunters
Part of any successful hunt is sight — how far, what's the range, working in shadows, and navigating in the dark. New hunters often don't consider how essential visual aids will be on your first hunt.
Make your hunting trip more successful with the right sight aids that have been proven by experienced hunters. Everything from binoculars to range finders, headlamps and tactical flashlights, can be the difference between a harvest and a miss. These are all great affordable options that will change your hunting success for the better and make the season a more exciting experience. 
Binoculars: Bushnell All-Purpose Model
Why We Like It for New Hunters
Let's face it, there are a lot of binoculars out there for you to select from. And with binoculars, it really rings true that a higher price point can provide better technology. On your first hunt, though, you're not in need of the most high-tech, long-range binoculars on the market. That's why we like to suggest the Bushnell All-Purpose Binoculars for beginners and novice hunters during their first few years.
These all-purpose binoculars were designed for hunters in mind, utilizing features like simplicity and stability to get you the results you want. They have multi-coated lenses and BaK-7 prisms, which provide clear visual results, plus these are nitrogen-purged to resist fogging. Keeping health and comfort in mind, the ergonomic design is meant to make using these simple – a center focus wheel to find the target and a fine-focus can be used in an instant. Plus, those with glasses don't need to worry because these have twist-up eyepieces.
10x magnification
42mm objective size
FOV 305′ @ 100 Yards
Close focus distance of 15ft
13.6 MM eye relief
Ergonomic design
Multi-coated lenses
BaK-7 prisms
Nitrogen-purged for fogging resistance
Center focus wheel
All users agree, can't beat this pair of binoculars for the price point. Water-resistant, they're not easily waterlogged, allowing clear, stress-free views in any weather. Hunters note they can spot even the smallest targets with the clear visibility, making them well worth the money, especially when stuck in a tree stand all day.
Lightweight, they're easy to transport and don't take up much room in a hunting pack. Time after time, new hunters mention they are very glad they made the investment in these, and they will no doubt last a novice hunter their first few years.
Rangefinder: Bushnell Prime 1300
Why We Like It for New Hunters
Having a rangefinder on you during your first hunt is a big way to improve your shot, your accuracy, and overall, your harvest for the day. Understanding the drop in your weapon paired with a rangefinder's accuracy helps you nail difficult, long shots with ease.
The Bushnell Prime 1300 is a great pick for beginner hunters who want the assistance without the hefty price tag. This model has a maximum range of 1,300 yards, making it a great choice when you're stuck in your tree stand for the day. There are three modes you can cycle through to ensure you get the right distance reading, every time.
It offers a Bush Mode that ignores foreground objects you don't want to focus on, like undergrowth and branches, so you only get the distance on the objects that matter. An additional Bullseye Mode focuses on the distance of small targets and ignores background interference. Scan mode lets you get continuous range readouts as you move across the terrain.
This rangefinder has an all-glass optical system and an objective lens. They are fully multi-coated lenses with Ultra-Wide-Band coatings to ensure crisp, clear images with natural colors.
ARC technology (Angle Range Compensation) gives a horizontal or "shoot-like" distance, even in steep terrains or high tree-stand elevations. This helps with bullet or bow drop in order to ensure a more accurate hit. Choose between a circle and dot, dot only, or circle only reticle.
Don't worry about bad weather, the EXO Barrier protects exterior lenses from rain, snow, oil, dust, and other debris, so you can hunt with these in any conditions. An ergonomic design allows 1-hand operation of this rangefinder since there are only two operation controls to cycle through.
3 rangefinding modes
3 reticle choices
Range distance maximizes at 1,300 yards
EXO Barrier exterior lens coating to handle all-weather conditions
Enlarged objective lens
All-glass optical system
Natural colors
6x magnification
The glass lenses are the best part of this rangefinder for many hunters — very clear and quality focus. It ranges quickly so you're not left waiting for a readout and the ranges are consistently accurate. Some users note a small difficulty reading some of the ranges in extremely low light, but this is a common issue found in most low-to-mid range rangefinders.
It's easy to pack and carry due to its lightweight design, also making it a breeze to access one-handed when your buck drifts into sight. Many hunters love this one most of all because of how fast it displays a readout, ensuring a quality harvest each time without experiencing frustrating losses.
Headlamp: Cabela's by Princeton Tec Alaskan Guide Series QUL
Why We Like It for New Hunters
Never forget your headlamp when out on a hunt. Sure, you have a ton of devices that give off light, including a standard flashlight, your phone, maybe even your smart-hunting watch. All of these, however, take up a hand, limiting your mobility and making visibility a pain if you're on the move or using both your hands for a harvest. This is why a headlamp is one of the more valuable pieces of gear to have in your pack when you leave for the hunt, especially as a new hunter.
We recommend the Princeton Tec Alaskan Guide Series QUL because it's weatherproof, submersible up to three feet, and can produce light for up to over 100 hours. It has Ultrabright 5amm LEDs producing 78 lumens. Four light modes allow you to cycle through high, medium, low, and strobe, and even a low battery indicator so you're not caught off guard during a critical moment.
Have a comfortable fit with the adjustable headband and be confident this will out-last your hunts with a super-tough Xenoy® build and a Kraton® bezel and indestructible Lexan® lens. Any hunt, any terrain, any conditions. Go hands-free and be more mobile in the dark with this trusted headlamp.
Adjustable fit
Weatherproof
Submersible up to 3 '
High, medium, low, and strobe light modes
Xenoy construction with Kraton bezel and shatterproof lens
Up to over 100 hours of light
Low battery indicator
Ultrabright LEDs
Hunters keep one of these headlamps handy at all times — in the truck, in the pack, and even in the toolkit or first aid bag. At this price point, it's worth it to invest in a few so you're never in need. Pros have held onto this brand of headlamp for over a decade and they continue to handle long hunts and intense conditions.
The lightweight design means it doesn't cause any neck or head strain when worn for long periods of time, and hunters trust the light cycles time and time again when in need. The biggest cons are that sometimes a faulty one won't hold up for the years others do, which is why many hunters have more than one on hand. For the price point, you can't beat a dependable headlamp from Princeton Tec.
High-End Tactical Flashlight: Streamlight ProTac HL-X Dual Fuel High Lumen Tactical Flashlight
Why We Like It for New Hunters
Sometimes headlamps, phones, or other light devices simply don't cut it. A high-end flashlight made to shine up to 100 yards can be your saving grace and this is definitely the right product to invest in.
The professional-grade Streamlight ProTac HL-X Dual Fuel High Lumen Tactical Flashlight is a must-have by many hunters. It provides 1,000 max lumens, all safely designed inside a shockproof C4 LED. It's extremely rugged, built from 6000 series machined aircraft aluminum construction with a Type II MIL-Spec anodized finish.
It's extremely waterproof and weatherproof, able to handle full water submersion 1m deep for up to 30 minutes. With a secure pocket clip, you can always have it on hand or clip it to your hat for extra light while going hands-free.
Lightweight
Ultra-bright with 1,000 max lumens
Rugged and durable
C4 LED
Shockproof
Waterproof
Weatherproof
Submersible for 30 minutes up to 1m
Does not diminish with low battery
Pocket clip
High/Medium/Low/Strobe modes
Run time of over an hour on High, up to 20 hours on Low
Invest in this and you won't be sorry! The right batteries take this from a good buy to a great buy for new hunters. Many outdoorsmen say that investing in 18650 batteries for this model tactical flashlight is a must, giving it better, longer-lasting light. Hunters and general outdoorsmen alike trust this flashlight for supreme visibility in even the worst conditions, and a lot remark they're glad they made the investment.
It fits easily in a pocket for quick access or can be clipped to a hat's brim in a pinch. The differing battery options with adjustable light modes means you can always find the right combo to get the light you need for the time you need it. It's extremely durable and will last a while with good care. Don't get caught out in the dark, fumbling for any light source, when the tactical flashlight from ProTac can help you in a pinch — this is a must-have piece of hunting gear for new hunters.
Everyday Use Flashlight: Polytac ProTac 1L-1AA Extra-Bright Dual Fuel Tactical Flashlight
Why We Like It for New Hunters
If now isn't the time to invest in a high-end flashlight, there are other options to keep you safe and protect you while out on the hunt in case of an emergency or low-light situation. The Polytac ProTac Extra-Bright Dual Fuel Tactical Flashlight is a great option for an every-day flashlight you can keep on you or always in your gear bag.
It's our pick because it's extremely compact and lightweight, allowing it to take up virtually no space while always being accessible. It is a high light mode, a low light mode, and a strobe for signaling to others or sending a sign of distress. It is weatherproof and features a 2m impact resistance build, letting it be your go-to for any emergency without worry.
Its max lumens is 350, allowing it to be powerful without blinding. Even when low on battery life, power regulation delivers the same light, every time. It's designed with ultra-durable anodized-aluminum construction and has impact-resistant tempered-glass lens to ensure rugged and durable use. Plus, an anti-roll head means it doesn't drift away if dropped, no matter what terrain you're in.
Lightweight
Weatherproof
Impact resistance for up to 2m
High, Low, and Stobe light modes
350 max lumens
Anodized-aluminum construction
Impact-resistant tempered-glass lens
Anti-roll head design
Waterproof
Weatherproof
Small but bright — what more could you ask for? It fits perfectly in a pocket or attached to a gear bag and is always bright and reliable when you need it, despite its compact design. When putting together your hunting gear as a new hunter,  always have a flashlight on hand.
Hunters note always having this nearbuy, no matter if they're on a traditional hunt or away for an entire weekend. It can't be beat when you're in need of a light in a pinch and this emergency flashlight takes the cake.
First Aid Recommendations for Hunting Beginners
New hunters should never go on a hunt without first aid gear and other outdoor safety products (or even experienced hunters). Pros know that the right first aid kit can make all the difference in an emergency situation, no matter how skilled or experienced they are.
Keeping these items on hand is important so you never find yourself injured and trying to locate another member of your group or trekking back to the truck for help. Affordable and compact, these first aid items are a buy-it-and-forget-it until you really need it, so buy it once and have it ready. 
First Aid Kit: Adventure Medical Kits Ultralight/Watertight .7 Medical Kit
Why We Like It for New Hunters
Anything can happen while out on a hunt — from rough terrain, unexpected weather, or even plain-old accidents, injuries are unavoidable. A first aid kit as part of your gear bag should be the number one thing you pack, every time. While a more fleshed-out kit should always be in your vehicle, having an emergency kit on hand to take care of the basics is extremely important for all new hunters.
The Adventure Medical Kit gets our vote because it's waterproof, lightweight, and extremely affordable. It fits in almost any pocket without taking up a ton of space, so you can pack, leave it, and forget it until an emergent situation arises.
This kit can handle the weather — two waterproof layers of protection, a water-resistant zipper, and enough supplies for a solo or duo person trip. It has the right supplies for almost any injury you may encounter, including:
Antiseptic wipes
Pain medication
Inflammation medication
Medication for common allergies
Bandage wraps
Bandages
Die-cut moleskin with tincture of benzoin adhesive
Lightweight
Weatherproof
Enough supplies to treat injuries for up to 4 days
Bandages, pain meds, antiseptic wipes, and more all included
Outdoorsmen find this first aid kit critical to any adventure they take. The weatherproof feature is a huge hit, but even more so is that it's lightweight and easy to pack. When looking for hunting gear new hunters should have, this is it.
No one wants to haul around additional gear in their packs when they already feel overloaded, but this Adventure Kit erases that concern with how light it is. You can pack up, feel safe, and not lose any valuable space with this on hand.
Blood Clotting Agent: Advanced Medical Kits QuikClot Clotting Gauze
Why We Like It for New Hunters
Hunting involves various risks and requires the proper precautions and safety measures to be taken. In addition to your standard first aid kit, you must have a clotting agent on hand. All too often a knife can slip in the blink of an eye, and in the middle of the woods with an open wound, probably over your game meat, you don't want to be worrying about infection and excessive blood loss.
The Advanced Medical Kit QuikClot clotting gauze is easy to add to your existing first aid kit and could be a critical piece of first aid in an emergency. It has been battle-tested with all branches of the US Military and has been found to stop bleeding from a serious injury 5 times faster than without.
The absorbent gauze is infused with kaolin, a naturally occurring mineral that acts as a hemostatic agent. It's non-allergenic, so an adverse reaction possibility is basically at 0%, allowing it to be completely safe for use in any scenario for anyone. Because it's a gauze it's flexible and can be applied to almost any wound on any location. Just press it over and apply pleasure to help stop the bleeding and induce proper clotting for safer wound treatment.
Proven effective by the U.S. Military
Stops severe bleeding 5 times faster than without
Uses kaolin, a naturally occurring mineral, that is non-allergenic
Simple and flexible
Hunters sing the praises of this first aid kit item, and you should, too. In less than thirty seconds you can reduce and ultimately stop bleeding caused by the slip of a hunting knife, saving you precious time and allowing you to bandage the injury faster to prevent infections.
Outside of the hunting community, it is trusted for kids, those with bleeding disorders, and those who respond to emergency situations. Trust us, and the pros, and add this to your kit before you head out for the hunt.
Bug Repellant: Thermacell MR300 Portable Mosquito Repeller
Why We Like It for New Hunters
Hunting means nature, and nature means bugs. While gnats and other pests won't cause too much of a problem, mosquitos can turn a nice hunt into a bothersome one very quickly. This is why having effective mosquito repellent on hand is critical to your health and safety. No matter how covered you are, mosquitoes, when determined, will do what they came to do. When looking for hunting gear as a new hunter, do not skip mosquito repellant aids.
The Thermacell MR300 is our top choice when keeping mosquitoes away because it's made with hunters in mind — no scent, no mess, no set-up, no smoke, no flame. You won't be giving away your location to any nearby prey with an overpowering bug spray scent because there isn't any with this repellant.
It works by creating a "no fly" zone up to 15 feet that is quiet and effective. An optional mounting system lets it be hands-free, and you can pack it easily into an extra pocket because it's lightweight and designed to be portable. DEET-free, it includes three repellant mats and 1 fuel cartridge so it can last up to 12 hours. Stay safe and hunt in comfort with minimal effort with this mosquito repellant.
15′ zone of protection
Scent-free
Quiet
Lightweight
Portable design
DEET-free
Mountable
Hunters deem this a "must-have" on the gear list when heading out, no matter the season or location. The moment you know the mosquitoes are coming for you you can flip the switch, power it on, and see the magic happen. It transforms any long-wait in the treestand into a much more enjoyable experience without compromising your location. It's completely silent, with no clicks or any other giveaways that other similar products have.
Some of the best tips for use are to buy two if you know you're going to be in an incredibly marshy or thick area, and don't forget to carry it with you when going down to collect your hunt! It keeps a treestand comfortable but without it out in the woods you'll notice the difference right away. Trust what the pros have to say and don't go on a hunt without this.
Mapping and Location Equipment New Hunters Need
There's no need to put your survival skills to the test with the slew of mapping, GPS, and location devices available for purchase today. While finding your way back to your treestand after tracking a deer used to involve taking note of your surroundings and charting the sun, the process can now be simplified with affordable GPS and mapping items. As a new hunter, mapping devices are a must as you explore new terrain.
Smartwatches, handheld devices, and more can all improve your hunting experience and keep you safe. Notate your treestand, mark your harvest, receive weather alerts, and get in touch with others for safety purposes with all of these mapping devices recommended for new hunters.
GPS Watch: Garmin Instinct Wearable GPS
Why We Like It for New Hunters
You never want to get lost while out on a hunt. Your phone may feature some aspect of GPS, and though you may feel confident in its battery life with a portable charger on hand, sometimes you need an additional resource to ensure you're covered in case of an emergency. Although this may not be a "must-have" for your first hunt, when you start exploring new areas, especially when solo or in small groups, you're going to want the proper mapping and location technology to back you up.
The Garmin Instinct Wearable GPS smartwatch is the right investment when buying on a budget. Extremely durable and rugged it is designed to withstand shock, water up to 100 meters, scratches, and more. The highly visible display is readable even under direct, bright light, so mid-day sun won't interfere with use.
GPS, GLONASS, and Galileo satellite network capability tracks in more challenging environments, so when other GPS devices fail this has the resources to keep you up and moving. An additional 3-axis compass is built-in along with a barometric altimeter. Use the TracBack feature to follow the path you took out, so if you get disorientated when tracking a buck you know just how to return without having to tap into your survivalist skills. Plus, you'll be able to trigger an SOS alert to contact the GEOS 24/7 emergency response team if you find yourself in a dire situation.
This GPS device can also pair with your phone for automatic uploads and live tracking. Use the heart rate monitor, stress monitor, and activity tracker to ensure you're staying healthy and safe when out on the hunt. Best of all, it can direct notifications from your phone directly to the display, so you're not fiddling with your phone every few minutes while waiting for a deer to wander by. It even sends you weather alerts so you can prepare without being taken by surprise.
14 day runtime in smartwatch mode
16 hour runtime in GPS mode
40 hour runtime with battery saver mode on
Withstand water and shocks
Compass
Barometric altimeter
Multiple global navigation satellite systems (GPS, GLONASS, and Galileo)
Smart notifications
Phone pairing
TracBack route to go back to your starting point
Weather alerts
Emergency connections
If you've been putting off investing in a smartwatch because you're not a whiz with technology, the Garmin Instinct will be the one to change your mind. It's extremely simple to use and pair with your smartphone, allowing you to browse adjustments and make changes to the settings with ease. All outdoorsmen enjoy this watch because it's extremely visible in all light, has easy to use TracBack, and lets you keep track of numerous other fitness settings all at once.
Overall, it's the best smartwatch GPS on a budget to get the basic settings you need when out on a hunt.
Handheld GPS Unit: Garmin eTrex 10
Why We Like It for New Hunters
If a costly smartwatch GPS unit isn't what you're looking for, this handheld device is great on a budget. No matter how great your survival skills are, a tracking GPS unit can save you a lot of time and make your hunt more efficient all around.
Preloaded with a base map but able to download additional maps, this is a great unit no matter where you choose to hunt. Enhanced geocaching lets you mark specific sites, like your treestand or other markers, so you always have them for a reference when returning to your hunt.
It features a four-level gray LCD with a very easy readout, no hassle. The compact design makes it easy to pack and fish out of a pocket when in need. High-sensitivity GPS means spot-on locating for those moments when you need it, and with twenty hours of battery life, you can count on this device.
Lightweight
Easy to use
Geocaching
High sensitivity GPS
20 hours of battery life
Hunters like this simple handheld GPS model because it's easy to use and gets the job done — if you're tracking a deer after dark or get off course this unit will easily guide you back to your treestand or vehicle with ease. Hunters note marking their treestands is one of the best features, allowing them to come back with ease and not having to use visual markers instead.
If nothing else, this is an important piece to have on hand for any hunting trip in case you get turned around. Even if you think you won't need it, outdoorsmen like having the peace of mind and knowing they can exit back to their car safely whenever they need to.
Walkie Talkies: Midland T75 VP3 X-Talker Handheld 2-Way Radios
Why We Like It for New Hunters
Chances are you're not going out on your first hunting trip solo. While phones provide a lot of communication accessibility, you can't beat a classic like two-way handheld radios. Don't skimp on this item because you never know when cell service will lag or you'll need instant access to the others in your group.
The Midland series offers 36 channels, 14 additional channels, and 121 privacy codes, so you always have personalized, private communication available. The Xtreme Range lets you touch base up to 38 miles away if conditions are clear, so if you plan out your hunting trips and where you plan to set up you won't have any issues at all reaching one another. Extreme durability allows these to handle any rough-and-tumbles in harsh terrain and water-resistance means you don't have to fret about incoming water or storm damage. Plus, they're camouflage, staying concealed even when you use them out in the open.
Not just a pair of walkie-talkies, these feature a Weather Alert Radio with Weather Scan — no surprises out on your trip, you'll be warned about storm watches, warnings, and general weather updates. A vibrating alert allows you to be warned without noise alerting the prey in your area and there's even a Silent Operation setting you can engage. There are also 5 optional call alerts, 5 animal calls tone, Auto-Squelch, and Roger Beep, in case the silent mode isn't what you need. Hi/Lo power settings also let you maintain battery life for those extra long trips.
Durable
Water-resistant
Xtreme Range—up to 38 miles
121 privacy codes
36 channels
14 extra channels
Weather Alert Radio with Weather Scan
eVOX Hands-Free Operation
Silent Operation
Hi/Lo power settings
Hunters should be mindful of their conditions before investing in these handheld radios — while some hunters had great experiences, others found difficulty even reaching a several mile range in extremely dense forestation.
If your conditions entail you'll have a clear line of sight to one another or you won't be too far, this can be a valuable investment. Hunters continually refer to these as some of the better pair of radios available, especially compared to competitors. If your hunting area works out for you these could be a handy item to keep with you to stay in touch.