No matter if you're hunting in freezing temps or a warm sun, base layers are critical to a comfortable hunt. Get too cold or too hot and you won't be able to weather the conditions long enough to score a buck that season, leaving you empty-handed and frustrated. In a worst-case scenario, not having the proper men or women base layers could leave you vulnerable to sickness, ticks, or other issues that jeopardize your health. 
When choosing your gear for the hunting season, you want to make sure you select the right base layers to keep you insulated, cool, dry, warm, protected, and comfortable. Thinking you can step out for the hunt in just a t-shirt and a hunting jacket won't get you very far. 
Both novices and experienced hunters alike can benefit from knowing what other hunters in the community are selecting for their hunting outfit this season. These base layers are popular, highly rated, and in-demand for a wide range of hunters. Boost your performance this season with better gear and better comfort.

Best for Cold Seasons & Inactive Hunts


Smell Neutralizing Technology


Best for Cold Seasons & Active Hunts


Smell Neutralizing Technology

Flexible Design for Active Wear


Carbon Grid Technology for Total Concealment


Protection Against Ticks & Insects

Tight-Weave Lycra/Spandex Blend


Lightweight and Flexible Design and Fit


Designed for Chill Weather and Active Hunts


Moisture Wicking Quick Drying Fabric


Scent-Slayer Fabric Technology for Scent Protection


Four Way Stretch Compression Fabric


Thermal Fitness Moisture Wicking Shirt


Ultralight Jersey Knit Fabric


Active Particle Technology for Moisture Wicking and Body Temp Control


Ergonomic Cuffs, Thumb Holes, and Loose Fit Hood

Carbon Alloy Technology for Odor Absorption

SITKA Merino Heavyweight Half-Zip Hunting Base Layer
Inactive Hunts in Cold Weather
The Reviews Are In: 4.8 Stars
Sitka is a favorite brand around here and for good reason — their gear holds up to the test. The Merino Heavyweight Hunting Base Layer has a comfortable fit, is warm, and can meet various needs when out on the hunt. 
Hunters like this choice because it can function as their standard base layer, a size up fits looser and can be a second layer, and if the weather is warm enough it's a perfectly acceptable long-sleeved shirt for the occasion. One shirt, multiple uses. 
When purchasing, be mindful of sizes — Sitka brand, especially this layer, can vary with fit so you may need to order one size up or down to get the fit you're looking for. Some users note this base layer costs more than others on the market, but it's worth it for the reliable Sitka brand, the comfort, and overall durability. 
SITKA Core Midweight Zip-T Long Sleeve Hunting Shirt Base Layer
Active Hunts in Cold Weather
The Reviews Are In: 4.8 Stars
If the heavyweight Sitka base layer is more than you need, or you're a more active hunter, opt instead for the midweight base layer shirt from Sitka for your future hunts. 
Compared to the Merino design, the Core is best in cold weather but while staying active. It's optimized for breathability, comfort, odor control, and wicking away moisture.
Some hunters note this gets easily scuffed when going up and down treestands, but this may be attributed to it being intended solely as a base layer. However, aside from this, there are no user complaints. It's comfortable, breathes easy, and insulates with the other proper layers during a colder hunt.
When purchasing, once again be mindful of sizing and what your intent is — go a size up for a looser fit, either for comfort or to add in an additional base layer underneath. Other than that, you are golden. 
HECS Hunting 3-Piece HECStyle High-Performance Hunting Base Layer Set
Carbon Grid Concealment Technology Base Layer
The Reviews Are In: 4.6 Stars
The HECS 3-piece hunting base layer set is a great deal for the hunter looking for either their next starter set or a new upgrade. HECS uses a carbon grid that blocks the electrical energy field animals use to detect movement and hunters. Their listing breaks it down in much more detail than we can, but this essentially works to diffuse the movement your heartbeats and blood make, concealing you much more efficiently from prey.
It's easy to be skeptical of this claim, but hunters agree that however this works, it's holding up to the test — squirrels, bobcats, and other animals will wander right on up, much closer than you anticipate in any other hunting scenario, so whatever HECS is doing, it's working. 
The sizing is true to fit but some hunters note going up a size because they prefer a looser fit. You'll stay comfortable, protected, and even get a little closer than you expected with this base layer combo purchase. 
RYNOSKIN Hunting and Outdoor Clothing Base Layer
Ultimate Protection Against Ticks and Other Insects
The Reviews Are In: 4.3 Stars
Ticks, mosquitoes, and other insects can be a real issue when hunting. Aside from the diseases they carry and the risks they pose, constantly being bitten during a hunt can put an end to your trip real quick. The Rynoskin base layer is designed to be lightweight, form-fitting, and give the ultimate protection against nature.
We recommend starting out with these pants to give them a try, and if you find success, Rynoskin has an entire line complete with socks, shirt, gloves, and more. These make our round-up because protection against ticks is no joke. The fabric breathes really well and is designed to be flexible to fit all ranges of motion — climb a treestand, track your prey, and haul out your harvest with ease in these without ever once having to worry about what else you're bringing out with you. 
Mossy Oak EHG Elite Midweight Thermal Hunting Base Layer
Affordable, All Day Wear in Light Weather
The Reviews Are In: 4.7 Stars
Need a basic base layer without all the bells and whistles at an affordable price point? Mossy Oak has you covered. We like the EHG Elite Midweight Base Layer for hunting because it's perfect for those chilly mornings that aren't quite freezing you in place.
Mossy Oak utilizes Scent-Slayer fabric technology to reduce your scent traveling downwind. This base layer is perfect for colder mornings where you just need some light layers to carry you through, and it will help conceal you from traveling prey, no matter how the wind blows.
It has a true fit, all-day comfort, and is extremely durable. This is our top recommendation for an affordable base layer with added scent technology to get you through your next season. 
MEETYOO Thermal Set Base Layer
Multi-Purpose Wear for Outdoor Sports and Hunting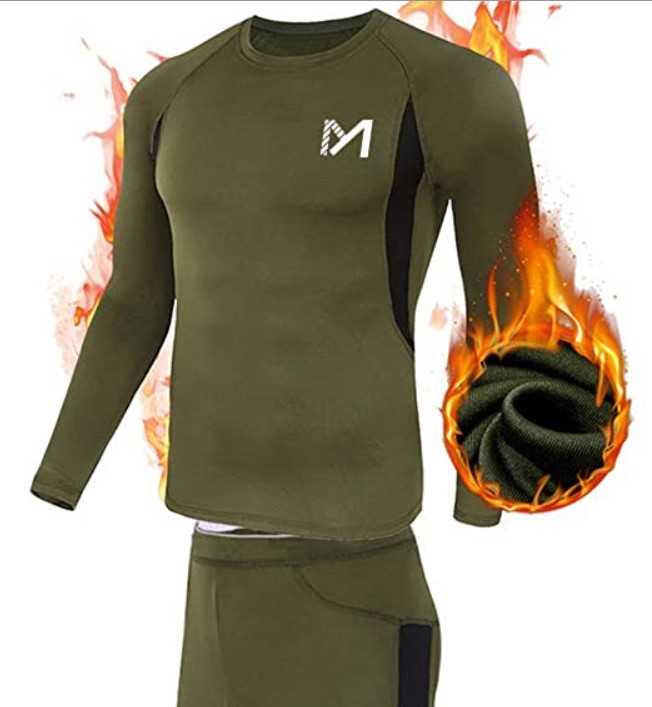 The Reviews Are In: 4.6 Stars
The MEETYOO Thermal Set is an extremely popular purchase, so we couldn't leave this one off of our round-up. It was not designed specifically for hunters but many hunters have opted for it due to its price point and flexible fabric.
Unlike most other base layers sets, this one runs large, so buying your standard size or even down one will give a better fit. MEETYOO is designed for outdoor sports, so this set is flexible for all ranges of motion. We like it for hunters who hunt in warmer weather, because although this set won't hold up to harsh winter conditions, it will keep you warm during those chillier days.
The best thing about this set is it's designed for all sports outdoor activities, so if you are into more outdoor activities besides just hunting, this will be the one set you can use for everything. Great for novice hunters or those who stay active outdoors all year long with different activities.
First Lite Wick Hoody Base Layer
The Reviews Are In: 4.8 Stars
When hunting in warmer weather or more humid conditions, an appropriate base layer is key to comfort. The First Lite Wick Hoody Base Layer is designed for warmer weather and fluctuating temperatures, so you'll stay warm in the dewy morning and cool in the hot afternoon sun. 
Hunters love this because it's comfortable, breaths easy, and has a smart design that cools and moisture wicks with ease. Don't pause at the price point — it's well worth it if you're a hunter who needs that warmer weather base layer. 
First Lite Furnace Hunting Base Layer
Cold Weather Hunting Insulation and Warmth
The Reviews Are In: 4.9 Stars
If you hunt in extremely cold conditions, this is the base layer you need to invest in. The First Lite Furnance line is not intended for active hunting or cold mornings that turn into slightly warm days. These have been designed to withstand cold temps, freezing rain, and layers of snow.

Hunters love these when the conditions are right and they note they almost always break out into a sweat even when just walking to their treestand. If you intend to pick a spot and sit tight, these are going to be the pair for you to keep you warm. 
ScentLok Heavyweight Base Layer
Reduce Your Scent and Improve Your Coverage
The Reviews Are In: 4.7 Stars
If you're looking for a base layer that conceals odors and provides better scent coverage, this is the one for you. ScentLok is entirely focused on creating layers of hunting clothing that reduces your overall scent and allow you to stay undetected for a long period of time.
This base layer uses their Carbon Alloy Technology to capture odors immediately while providing you warmth and comfort. Hunters note these are comfortable, warm, and get the job done, but no word yet on if the scent technology is superior to other brands.
The style is less fitted than some other options, but if scent concealment is your biggest obstacle, this could be the right purchase for you.